Oo-Bop-Sh'bam – Oo-Bop-Sh'bam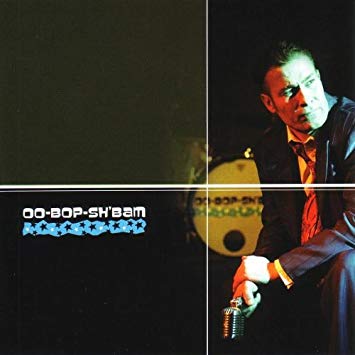 Oo Bop Records – oobopr 001
The Oo-Bop-Sh'out – Well Alright – Rock Rock Rock – Just Love Me Baby – Big Mamou – Be My Guest – Rooming House Boogie – Lillie Mae – Kindey Stew – Let 'Em Roll… For Big Joe – Flip Flop Fly – Wish You Were Mine – Braking Up The House – I Like To Bop
In the '80s, England had a vast scene of small jazz, blues, jump and jive bands like The Chevalier Brothers, Howlin' Wilf and the Vee-Jays, King Pleasure, Big Town Playboys, etc.
One of the best of these new bands was Rent Party. They were swinging and jumping like no other, and Jackson Sloan, their singer, had a voice tailor-made for this kind of stuff. After Rent Party, he played in the jazz fields, and he's now back to his first love with Oo-Bop-Sh'bam, a combo of solid and experimented musicians.
Bass player Dave Lagnado has played for James Hunter, tenor sax player Andy Dummet has shared the stage with Solomon Burke and Otis Grand while the other saxman, Julien Greaves, has played with the Rolling Stones. Not to forget another ex-Rent Party, Alan Savage on drums who played with Hubert Sumlin, Paul Lamb, Joe Jackson and even Freddy Mercury. And as a special guest they have Ray Gelato who wrote the liner notes and blows in his sax on two tunes. You can now see that I didn't use the word "experimented" lightly. Together they play a solid mix of blues, boogie-woogie and highly enjoyable rhythm & blues. Three songs are from the pen of Savage and Sloan (one together and one each.) The remaining eleven are covers of Smiley Lewis, Tiny Bradshaw, Amos Milburn, Fats Domino, and Big Joe Turner, who is not only covered but has a song dedicated to him (Let 'Em Roll, a nod to Roll 'Em Pete). It's not a big surprise as Sloan has a deep and powerful voice close to the Boss of Blues. Roscoe Gordon's Just Love My Baby allows Paul Garner to play great T-Bone Walker licks. Also remarkable is pianist work, in the background, but with a constant and driving presence on "Rooming House Boogie," or in the foreground with a great demonstration of boogie-woogie on "Breaking Up The House." For all the dancers, jivers, foot tapers, and lovers of juicy saxes and real blues voices, this one is for you!
Fred "Virgil" Turgis
Share the post "Oo-Bop-Sh'bam"