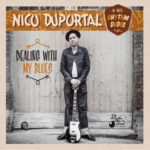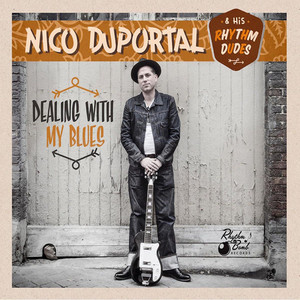 Nico Duportal and his Rhythm Dudes – Dealing with my blues
Rhythm Bomb Records ‎– RBR5844 [2016]
Don't You See – I Know The Rules – Now Hush – The One To Blame – I Will Unfriend You – Mess And Chaos – Benzola Ascensor – Sometimes – Brand New Day – Junior's Mambo – Soul Patch – Long Way To Go – Mess And Chaos (Acoustic Bonus Track)
Nico Duportal,French ace guitar player and singer, is not the kind of guy to rest on his laurels. One year after the excellent Guitar Player (that I hope you all own) he releases a brand-new platter that is even better. Once again, the Rhythm Dudes (Pascal Mucci on drums, Alex Bertein on baritone, Thibault Chopin on upright bass, Sylvain Téjérizo on tenor and Olivier Cantrelle on piano and organ.) are here to provide the perfect background to let the many talents of mister Duportal shine.
While his previous album was almost 100% rhythm'n'blues, "Dealing With My Blues" expands his musical horizons and shows the influence of many other genres, including a heavy dose of Soul with, terrific idea, the use of an organ (and if you like Jimmie Va. There's someTilt a Whirl band, you'll be delighted) Mambo too with Junior's mambo penned by  Tim Lelegems ex-Fried Bourbon and Shakedown Tim and the Rhythm Revue, a band recently produced by Duportal. There's also a bit of of surf (Soul Patch), a hint of Calypso (the One to Blame) and more modern things like Mess and Chaos (that Don Cavalli co-wrote) that shows that Duportal is not a "revival" guy and that his music is not a piece of museum.
All songs are originals mostly penned by Duportal but bass player Thibault Chopin composed two (and co-wrote another). In addition to Junior's Mambo Tim Lelegems co-wrote I will Unfriend You (facebook friends beware!) and last but not least French blues legend Benoit Blue Boys penned Benzola Ascensor an instrumental on which he also plays harmonic (by the way Nico will appear on Benoit Blue Boy's forthcoming album, a tribute to French Rock'n'rollers of the of the fifties like Mac Cak.)
Buy it here or if you order from France here.
Fred "Virgil" Turgis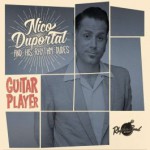 Nico Duportal and his Rhythm Dudes – Guitar Player
Rhythm Bomb Records  – RBR5800 [2015]
When I'm Gone – Lost In The Game – Polish Woman – Oh Baby – Can't Afford To Lose Her – She Knows How – Real Good Lovin' Tonight – Big Mary's – Guitar Player – Oh Oh – Josh & Slim – Much Later – Polish Woman (bonus track, unreleased version)
If you dig 50's black rhythm'n'blues, stop what you're doing right now and run to your local record shop – if it still exists – or go to Rhythm Bomb's website to buy Nico Duportal's amazing fourth album. When you listen to it, you'd swear that someone has unearthed a lost recording made for Peacock or Specialty and put it on cd.
The last time I had the same level of enthusiasm for a similar artist was at the turn of the millenium when I listened to Nick Curran's debut album.
Like Curran, Duportal has the whole package: the voice, a guitar style in which one can hear the influences of Tiny Grimes, T. Bone Walker, Gatemouth Brown and Johnny Guitar Watson and the songs (and he even has the look!). Six out of 12 are originals he wrote or co-wrote and double bass player Thibaut Chopin wrote another one. The cover are well selected coming from the catalog of Jackie Brenston, Titus Turner, Johnny "Guitar" Watson and Eddie Bo.
One word has to be said about the Rhythm Dudes without whom this album wouldn't be such a success. The rhythm section (Olivier Cantrelle on piano, Pascal Mucci on drums and Chopin on bass) keeps a steady beat whith precision and swing (yes, both!) while the horns (Alex Bertein on baritone saxophone and Arnaud Desprez on tenor) are groovy, juicy and hot.
A must have.
Fred "Virgil" Turgis