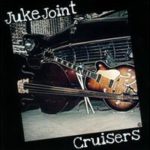 The Juke Joint Cruisers – s/t
Juke Joint Records
Hot Rod Guy – Juke Joint Jumpin' – Nagging, Nagging – Road King – Tore Up – Diamond Ring – Your Love – Rhythm Rustler – The Last Petal – Latina Tina
The Juke Joint Cruisers come from Colorado and they are Randy Watson (guitar and lead vocals), Mike Boyce (double bass and lead vocals) and Lee Lippstrew (drums). This is their debut album and it's been entirely recorded live which is the best way in my opinion to record this music. Produced and recorded by the band It's a very solid album, featuring all original material. They have the good idea to keep it short (10 songs and 30 minutes), which avoids the temptation to include second choice material. All the songs here are first rate and varied. It also takes you back to the good old vinyl days a feeling reinforced by the Side A and Side B on the back cover. Their sound mixes rockabilly with rockin' blues and the result is sure to appeal to fans of Lee Rocker, the Nervous Fellas and most of all the early Paladins. In addition you'll also find more country oriented stuff like "Nagging, Nagging ", latin beat (Latina Tina) and a Chuck Berry meets Link Wray and Duane Eddy instrumental (Rhythm Rustlers). No rockin' album would be complete without a rockaballad and Boyce's The Last Petal perfectly fills this void.
Fred "Virgil" Turgis
Share the post "The Juke Joint Cruisers"