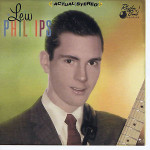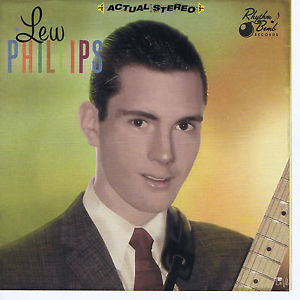 Lew Phillips – s/t
Rhythm Bomb – RBR 5782
Fallin' In Love Is Easy – Marie-Lou -Laurie-Anne -Be My Baby – Tell Me Why – In The Night -Your Love -Hey Baby -My Little Woman -You're The One -On My Way -Love Makes Me Feel Blue -What Have You Done -Rock With Me Baby -Mister Colter
Lew Phillips is a young rocker from Canada. After one ep and one single on Wild Records, Rhythm Bomb presents his debut album with 15 self-penned songs. Beside singing lead, Phillips also plays lead and acoustic guitar. The other musicians are Dominic Simard and Eddy Blake Eaton on bass and Michel Dagenais (Howlin' Hound Dogs) who plays drums, bass, piano, organ. He is also credited for producing, recording and mixing the record.
Phillips has a good voice and obviously Buddy Holly had a major influence on his musical development (and probably still have). One can find and hear the same inflections and hiccups in his voice. The songs are in adequation with the voice and often sound like some Holly's long lost recordings. Other influences that can be heard are Ritchie Valens, notably on the ballad Laurie Anne and a bit of Little Richard on Rock With Me Baby. Dagenais's production is perfect and give to the LP a true and real 50's sound.
Despite the fact that some of the orginals sounds VERY much like Buddy Holly  (Tell Me Why that is quite close to Tell Me How and In The Night being just a mix between Take Your Time and Well All Right) it's a very good album. Good to hear new artists like Phillips or his label mate Ricky Fabian, who concentrate on the melodies.
Fred "Virgil" Turgis