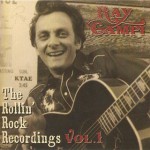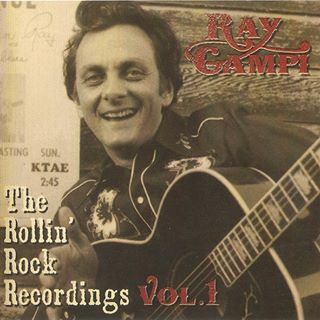 Ray Campi – The Rollin' Rock Recordings Vol. 1
Part Records PART-CD 613.004
Rockabilly Rebel / Sack Of Love / A 50 Dollar Upright / I Let The Freight Train Carry Me On / Doin' My Time / The Rip-Off / Rockin' And Rollin' / Cincinnati Cindy / Goodbye Love, Hello Heartache / Jungle Fever / When I Saw Your Face In The Moon / You Stick Out In Pretty Places / Second Story Man / Don't Get Pushy / Cravin' / Separate Ways / I'm Gonnan Bid My Blues Goodbye / How Can I Get On Top / Little Young Girl / Chew Tabacco Rag / You Don't Rock 'N' Roll At All / Ruby Ann / I Don't Know Why You Still Come Around / Running After Fools / Jimmie Skins The Blues
After recording a batch of seminal rockabilly singles in the fifties (see Texas Rockabilly vol. 2 – Rollin' the Rock on Eltoro) Ray Campi more or less retired from music. By 1971, when  Rockin' Ronny Weiser contacted him, he was an English teacher. It didn't take long to convince him to record again. Not only Ray recorded albums on his own but also became Rollin' Rock's studio band playing with Mac Curtis, Jimmie Lee Maslon and Jackie Lee Cochran.
This fine package gathers Campi's first two album cut for Rollin Rock on which he plays almost all the instruments. With the help of Weiser, Campi managed to recapture the excitement and the fun of the 50's rockabilly but with a modern twist thus creating a brand new sound. These recordings are almost as essential as his 50's sides, not only for their musical quality but also for their historical values and the countless bands they influenced.
The cd comes with a detailed booklet featuring liner notes by Ray himself, Ronnie Weiser, Wild Bob Burgos, Rip Masters and Mario Cobo.
Essential! Part Records must be congratulated for their hard word at releasing this stuff like they did with Mac Curtis' Rollin Rock sides, Ravenna and the Magnetics and Ripsaw records.