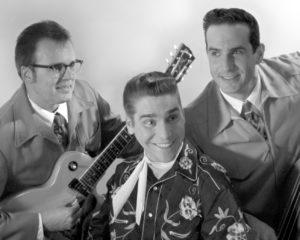 I love to be surprised in music. Of course I'm always happy to buy a record I'm sure I won't be disapointed with (you can't go wrong with Deke Dickerson, Marti Brom, Big Sandy to name but a few). But sometimes I just buy records for the name of the band, the cover they play (or the ones they don't play), pictures I saw or guys they've played with. That's what happened when I ordered "Wanderin' Mind" by The Roy Kay Trio just because Deke Dickerson was the producer. And, man, what a good choice I did that day. This "classic" rockabilly trio (two guitars and a slap bass) played the best rockabilly I've heard since High Noon, melodic and agressive in the same time. Then a few years later the band released "Knockin' Em Back" which was, believe it or not, even better. Once again Roy Kay showed he was a accomplished songwriter with mid tempos like "In the middle", "Overboard" and the beautiful slow "Tell me your dreams". In 2005 they released their third effort "Rock-A-Way Lonesome Moon", another killer. This interview took place just after they went to Berlin to record it..
Fred "Virgil" Turgis
Could you introduce us the member of the band ?
Roy Kay:Robin Cady on upright bass and Mike Geglia on electric guitar
What did you grow up listening to ?
Roy Kay:All kinds of music. My mom was a Bing Crosby fan, my brother, 9 years older than me, was into the Beatles and the Beach Boys. I used to dig through all their record collections. My dad was a clarinent/saxophone player in the late 40's/early 50's for small swing combos. He didn't play much by the time I was growing up, I think that made the idea of playing music live more intriuging. Since then, I've been into a lot of different things, garage, punk, early country, western swing, early rhythm and blues. I dig country blues from Son House, Mississippi Fred McDowell, Sleepy Johh Estes, Arthur Crudup to name a few. I like Muddy Waters before he moved to Chicago and started playing the kind of music I think most people stereotypically think of the blues. I've always liked rockabilly in one form or another, from my mom's 8-track tape Elvis collection to the Stray Cats when I was twelve to when I first saw Johnny Cash in London in '94.
In your biography, you're talking about punk bands you've played with. Could you tell us more about this period?
Roy Kay:Sure, I grew up in Orange County, California. The punk scene was doing really well in that area with bands like Agent Orange, Adolescents, Social Distortion and DI and great all ages venues like Fender's in Long Beach and LA's Olympic Auditorium. There was also a DJ show on a local radio station, Rodney Bingenheimer… The label Posh Boy released these compilations called Rodney on the Roq (KROQ – I think it's a top 40 station now). Anyway these were my first punk records, with bands like Black Flag, the Minutemen, Circle Jerks and a bunch more. I dug it and started a band when I was 15, Red Scab, with my two best friends. We played shows, mostly crazy parties, including a house wrecking party, for two years and recorded two demo tapes. It was a lot of fun and I still see some of the people from those days at rockabilly weekenders here and there.
You were a drummer at that time ?
Roy Kay:No, I started the band singing and playing bass guitar. I moved to bass guitar/backing vocal when a friend of mine wanted to become the singer. I started playing drums in 1999.
Do you still play drums ?
Roy Kay:Yes, occasionally. It's a really cool instrument. The last project I played drums in was a 40's rhythm and blues bands with some good friends in Seattle.
When did you first start playing rockabilly? How did you discover that style?
Roy Kay:In 1999, I played drums for a short lived band called the Knocked-Outs. I was just learning drums; it was great at the beginning. After a year, I really wanted to play music with fewer people and less instruments, so in 2001 I decided to start the trio. As far as discovering the style, like I mentioned before, I've always known about it, but I really started being serious about it after I saw Johnny Cash in London. It was a great show in a small club and I'll never forget it.
Did you record things before the Roy Kay Trio ?
Roy Kay:Yes, lots of stuff. One punk demo still survives from 1986 and the rest are from various bands from '87 til '98. Mostly experimental lo-fi blues.
How did you meet Robin and Mike ?
Roy Kay:I met Robin in the Knocked-Outs and I met Mike through a guitarist wanted ad!
You formed the trio in 2001, did the line up remain steady?
Roy Kay:Yes, I'm thankful for that. Robin and Mike are great to work with and a lot of fun to hang out and travel with.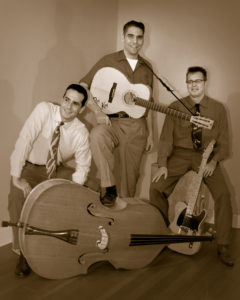 Then you met Deke Dickerson and he produced your first album. Who approached who at first?
Roy Kay:I asked Deke if he was into it and he said yes. I had met him a few times before through mutual friends in Los Angeles. That recording session for Wanderin' Mind was a great weekend. He was really easy to work with.
Lance LeBeau said about Sun studio (where he recorded with Go Cat Go) « Sun studio is an amazing place, the vibe in that room is chilling; there's a definite air to that place. To me the room felt alive of energy». Was it the same at Electro-vox ?
Roy Kay:Not really, the studio has been through a lot of changes, even in the last two years. The building is interesting, the location is great and the room has really good accoustics, but that place is more about the current people involved. Wally Hersom is a great engineer. For that session he used mostly his own equipment and it worked out great. Knockin' Em Back was Ashley Kingmans first job as a producer. He did a fantastic job. We all had a blast that weekend !!
You have a 45 out. What about this one. Is this a preview of the forthcoming album, or will they be available only on vinyl ?
Roy Kay:No it's not really a preview, and yes, this will be only released on vinyl for now. We recorded this in a couple hours at the same place we recorded Wanderin' Mind. Travel Bound is a wild song that we wanted to record for Tex who runs Miz. Liz Records. The B-side is an old western swing song and we added our own arrangement.
And what about the new songs to appear on compilations ? Where ? When ?
Roy Kay:There are a few compilations coming out, one on KamiKazi Records and another that our local radio station put out for Seattle's Shake the Shack Rockabilly Ball, but both of those use previously recorded material.
You're back from Berlin, where you recorded your next album, how was it?
Roy Kay:It was great, it's always fun going over there. The tour was great. Good crowds at the festivals in Waldorf and Berlin. The Voodoo Bar in Goettingen once again was incredible. Small club, but one of the wildest crowd anywhere. The recording was real cool. Working with Axel at Lightning Recording was a great experience, he really works for the right sound for every song. He puts a lot of heart into what he does.
What can you tell about us this new recording?
Roy Kay:I think it's real cool, we're all really happy about the way it came out and can't wait to release it. It's different from the second record (Knockin' Em Back) just like the Knockin' Em Back was different from Wanderin' Mind. This record is very inspired by music from the early fifties especially the work from artists like Tillman Franks, Faron Young, Webb Pierce, Jimmy and Johnny and Curtis Gordon. We're currently mastering the record right now. It will have 14 songs with 11 to 12 new originals.
Did you record stuff only for the album, or also for compilations and 45 rpm?
Roy Kay:We recorded 18 songs all together, we may or may not use them for something else. We definitely want to do a few more singles, we'll see what happens.
Do you have a release date?
Roy Kay:Not exactly, but it should be out by the fall of this year! Look for it and we hope you enjoy it!!
I saw that it will be out on Rhythm Bomb records. Do you stop the activities of Lur Liner?
Roy Kay:No, LurLiner will continue to run.
Have you been approached by other labels ?
Roy Kay:Yes, other labels have made us offers, but Rhythm Bomb worked out the best for us. We had a great time touring Germany last year and this is a great reason to go back.
You toured europe last year, do you have special memories. And will you come back ?
Roy Kay:D-Day was a blast! But along the whole tour all the people were great. We made a lot of friends and I'll be glad when I get to hang out with them again. Later in the year we are planning a longer European/England tour in October.
You'll be at the the next Hemsby ?
Roy Kay:Yep, it looks like Sweden and Finland too, but we're still working out the details!!
Talking about festivals, how was Oneida?
Roy Kay:I had a real good time at Green Bay, different from other weekenders I've been to. Great for seeing music with 120 bands, but not nearly as many people dancing during the DJ sets as other weekenders. One of the reasons might have been there was always a band playing at one of the 4 stages, so lots of people were moving around trying to see as much as they could.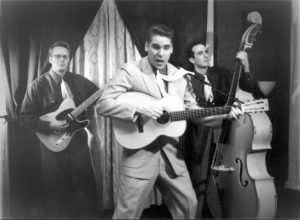 What is your best memory?
Roy Kay:One highlight for me was to see so many friends from all over the world in Green Bay, Wisconsin! Best music memory, if I had to pick one it would be Jimmy Cavello's set, especially singing Rock, Rock, Rock. To me it sounded like little time had passed since he originally recorded it.
Did you back "original" artist?
Roy Kay:No, got to see our good friends back up plenty though. The Ragtime Wranglers, The Fly Rite Boys, Deke and Wally all did a fantastic job.
Your cd's are very well designed. They are credited to GiantRoybot.inc. I guess you're the « Roy « in Roybot…
Roy Kay:Yep, that's me.
This is your job, or do you play music full time ?
Roy Kay:I'm happy you dig the designs, because that's what I do when I'm not playing music. I've been doing graphic design for 10 years.
What about the rockabilly scene in Seattle ?
Roy Kay:Lately it's been good, not too many touring bands in the last year, but the local shows are crowded.
Johnny Burnette, Carl Perkins and Hank Williams or Texas rockabilly a la Budy Holly are obvious influences (among others). Did more recent bands like High Noon influence you ?
Roy Kay:I would say inpire, more than influence. The real influence comes from the original 50's artists, like Charlie Feathers and Jack Earls, but when I hear a new band do something really cool, it reminds me that there is a lot of great ideas still in Rockabilly.
What is for you the ultimate rockabilly singer ?
Roy Kay:I'm not sure if I have one. I really like Charlie Feathers especially the country songs, and the way the Burnettes sing with intensity. I like Webb Pierce, althought he wouldn't be classified as a rockabilly singer. If I had to pick one, I'd choose Carl Perkins or Curtis Gordon. They both can sing with heart in a subtle way from a rockin' tune to a country ballad.
A last word to conclude ?
Roy Kay:Thanks for the great questions and I hope we can make it to France this year!