Sarah Mai – I Ain't Gonna Hush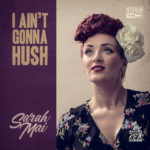 Right Recordings RIGHT347 [2019]
Sentimental Journey – Bop Ting A Ling – Feel Fi Fo Fum – Come On A My House – Mama He Treats Your Daughter Mean – Hound Dog – I Ain't Gonna Hush – As Long As I'm Moving – This Train – Whipper Snapper – Hello Little Boy
As a reviewer, I try to be as objective as possible. Of course, I also like to read the booklet of an album when I receive it. And, though I didn't know Miss Mai, when I saw that Pat Reyford was involved in the making of that platter (he plays all instruments and contributes backing vocals too), I had a pretty good feeling. But nothing prepared me for Sarah Mai's voice. The lady blends the charm of Rosemary Clooney with the power of Ruth Brown. This Rhythm'n'Blues album is excellent from start to finish. It begins smoothly with Sentimental Journey, then slowly drifts gears, takes detours with a touch of jazz here, some doo-wop, and ends at a frantic pace with Lavern Baker's Whipper Snapper and Ruth Brown's Hello Little Boy. It leaves the listener breathless, knock-out, but most of all, begging for more. That's what a good record always does; it leaves you frustrated, and you have no choice but push the repeat button.
One could moan – there's always someone who complains – that "I Ain't Gonna Hush" contains only covers. So what? Do you complain when you listen to Billie Holiday that she only sings covers? Of course not, you're just happy to hear to a great performer who sings classics. The same goes here. And you can't deny that Sarah Mai is a brilliant songstress who takes those classics (and some lesser-known songs) and turns them into her own songs, with her personality, energy, and a healthy dose of soul.
This kind of album is too rare to be ignored, so jump on it, then jump with it!
Availble at https://www.sarahmai.co.uk/
Fred 'Virgil' Turgis