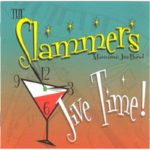 The Slammers Maximum Jive Band – Jive Time
El Toro Records ETCD2036
She Walks Right In – All of Me – Just A Gigolo – Swanee River Boogie – What'd I Say – Hook, Line & Sinker – Stagger Lee – Chicken & the Hawk – Boogie Woogie Country Girl – Shortenin' Bread – Buona Sera
If you dig contemporary bands like The Stargazers, the Big Six and Ray Gelato's Giants Of Jive and of course Louis Prima and Louis Jordan this one is for you. Recorded live it proposes a good set of danceable music. I really enjoyed the excellent "Swanee River Boogie" (think Jerry Lee meets a Jive band), "Hook, Line and Sinker" which is full of joy, the instrumental "Shortnin' Bread" with great saxes (both juicy and screaming) and the rockabilly "Boogie Woogie Country Girl" with a heavy slap bass and piano. That's too bad they only play covers, and extremely well known ones, cause these guys (and girl) are good musicians and a little bit of originality would have been good. This said, I must say I couldn't help but tapping my feet while listening to it, so I guess this is the more important, don't you think?
Fred "Virgil" Turgis
---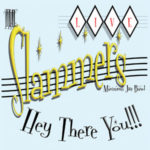 The Slammers Maximum Jive Band – Hey There You !!!!
Hey There You ! – Bim Bam – Choo Choo Ch'Boogie – Oh Marie – Straighten Up And Fly Right – Such A Night – Ain't Nobody Here But Us Chicken – Shortnin' Bread – Boogie Woogie Country Girl – Swanee River Boogie – Corrine, Corrina – What'd I Say – Bloodshot Eyes – Linda Lu – All Of Me
All right boys, grab your dancin' shoes, push the furnitures on the wall, roll the rug, you'll need a maximum of space cause this guys (and girls) are here to make you dance. Captured live on the stage of the Warrington Blues Festival in 2007, this cd shows the Slammers Maximum Jive Band at their best: full of energy, excitement and with a communicative "joie de vivre". You can hear from every note they're happy to be here (and the listener regrets he wasn't there to see them that day), and I think this is the key of the success of such a recording.
There's no radical departure from their studio album, but as I said, the live recording really advantages them. The powerful rhythm section supports the solists who trade solos. All of them are great players, but I'd like to make a special mention to Claire Hamlin whose talent shines on her rendition of Swanee River Boogie and Ray Charles' What'd I say. Add James Gray warmful vocal and you'll have every ingredients for a great band. The show starts with Freddie Bell's Hey There You, and you're off for 49 minutes and 15 songs of jumpin' jivin' rhythm blues, with a touch of rockabilly here and there, that won't let you a second to catch your breath. I'll look forward the next one.
Fred "Virgil" Turgis