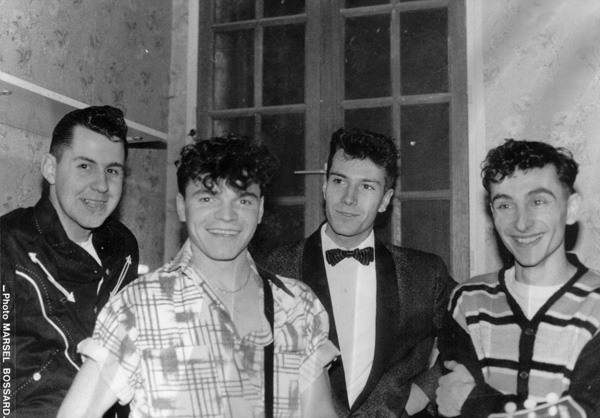 The Sprites (Philippe Servente – lead vocals, Pascal Guimbard – lead guitar, François Gadotti – double bass, Lionel Decaix – rhythm guitar, Red Dennis – drums) were a French rockabilly band that played between 1983 and 1986. Their sound was heavily influenced by Gene Vincent and the Blue Caps first albums. After a set in Holland they caught the attention of Ray Frensham, then boss of Northwood Records who released two songs (White Lightning and the self penned Share Of Love) on the Big Noise from Northwood sampler (NW1002). A third song, a cover of Vincent's B-I-Bickey-Bi, Bo-Bo-Bo later appeared on The Northwood Story Vol. 1. Those songs were lifted from the band's self released cassette that one can find on the web (most of the tracks are also on you tube) with covers like Long Blonde Hair, Sunny Side Of The Street, I Knocked Bim Bam, Warm Love etc.
They were a great band with a great sound and that's a pity they never released a proper record of their own.
After the band stopped only Pascal Guimbard  and Red Dennis remained active on the musical scene. The former went on to play with the Go Getters, Red Hot & Blue (on Havin' a Ball), moved to the USA and played with the Dalhart Imperials, came back to France and went full circle by playing double bass with the Gene Vincent influenced band the Capitols while the latter played drums with the Hot Rock and many other acts (Al Willis etc.).