Starweather Boys (the) – Archer ST. Blues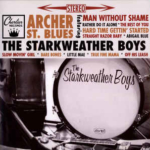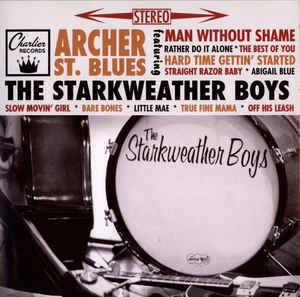 Charlier Records CR001
Abigail Blues – Slow Movin Girl – Little Mae – Off His Leash – Hard Time Getting' Started – Man Without Shame – Bare Bones – The Best Of You – Straight Razor Boogie – Archer ST. Blues – Rather Do It Alone – True Fine Mama
The Starkweather Boys, a quartet, although they have some guests on this recording, come from Oklahoma, and this is their first album. They're not the ones you can quickly put in one box as they like to play different types of music and alternate styles. All songs, but three, are originals. This debut album will delight everyone who loves rockin' roots music with no boundaries; their references are to be found between the early '40s to the late '60s. They open with an excellent rockin' boogie blues "Abigail Blues" and ends in a fantastic Sonny Burgess influenced rendition of Little Richard's "True Fine Mama" with piano and trombone. In between you'll find a damn good western swing tune "Archer St. Blues" (a tribute to Bob Wills and his partners in crime), with full orchestration : fiddle, piano, trombone and steel guitar ; a bunch of blues numbers from rocking blues to swinging blues ; a Honky Tonk with that distinctive shuffle in the best songwriting tradition of Wynn Stewart and Harlan Howard (The Best Of You). The pedal steel solo on this one is worth the price of this cd alone. Some wild rockers and rockabillies are thrown in the mix too with slap bass to the fore (Straight Razor Baby, Off The Leash). The musicianship is impressive, but you can't go wrong with guys who played with Eddie Bond, Wanda Jackson, Big Al Downing, and Mack Stevens. Also remarkable is McPherson's vocals. This guy can swing, croon, weep, and scream. If you like American music, you'll find something for you in this album. This excellent piece of music comes in a very well designed package with lyrics inside.
Fred "Virgil" Turgis
Share the post "Starkweather Boys (the)"