T-Bear & The Dukes of Rhythm – Let The Sweet Talk Flow…
El Toro Records R&B 205
Boogie And Soul – Lipstick Woman – Please Love Me – Don't Touch Me Baby – That's What the Blues is all About – Do You Think I'm Wrong – Let The Sweet Talk Flow – T-Bear Blues – She Moves Me – Barefootin'- Baby Please Don't Lie to Me – You're Gonna Need Me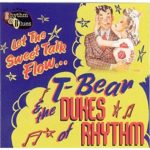 This 8-piece combo (3 saxes, piano, bass, drums, guitar and an excellent blues shouter) comes from Sweden and knows how to play rhythm'n'blues for sure. And the five originals written by T-Bear prove they can deliver solid originals too. They have roots in the 40's and the 50's but they are not a retro band. The global sound has a modern edge and would please fans of The Fabulous Thunderbirds and Little Charlie and the Nightcats as well as fans of T-Bone Walker. They don't hesitate to make incursions into the 60's and add a bit of soul in their groovy music for the pleasure of your ears and your feet. You'll also find swamp pop (Dont Touch me Baby) a very danceable funky number (That's What the Blues Is All About), and a Chicago blues with soul (You're Gonna Need Me) closes this fine album. Highly recommended.

---
T-Bear & The Dukes of Rhythm – Broadway Twist
Self-released
Hippie Creek Lady – Broadway Twist – Girl You're Electric – She's My Woman – Stumble Back To Go – It Takes Time – Buzz You All Night Long – Hard To Believe – Come Back Baby – Don't Leave Your Heart Behing – Meanest Girl – Boogie Contest
The best post-war blues album I've heard in ages. T-Bear & The Duke Of Rhythm's newest album is the perfect follow-up to "Let the Sweet Talk Flow" with the sole exception that it's even better. With the same line-up (plus the addition of Arne Fjeld Rasmussen on harmonica – and what harmonica!) they deliver twelve self penned songs with a strong 60's blues filled with soul feel. No filler, all killers. I particularly enjoy the presence of the Hammond B-3 on almost all of the songs of this album. It's very hard to resist to dance and party to the sound of "Hippie Creek Lady", "Boogie Contest", "Girl You're Electric" that'll please the fans of Rick Estrin and Little Charlie Baty and the best of all "Broadway Twist" – an instant classic – that leaves you exhausted. You'll then relax with the slower "Stumble Back To Go", "Hard To Believe" and the fantastic soulfull ballad "Don't Leave Your Heart Behind". T Bear is equally at ease with fast paced numbers than with slower tunes on which his deep voice makes wonders. If you dig the King (Albert, Freddie, BB) and modern artists like Nick Curran and Jimme Vaughan you won't wait any longer to get a copy of this cd.
---
T-Bear & The Bones – Ice Machine [2013]
Intro: To Be Continued… – Why Don't You Stop – Same Ol' Tricks – Ain't Gone 'n' Give Up On Love – Ice Machine – Let Me Love You – Things Ain't Like They Seem – Choke Dog – Hard To Believe – Come Back Baby – Church Blues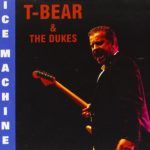 Things have changed a bit for T-Bear since his latest release. This new album sees the band without the horn section but still with a Hammond B3 organ (hence the new name). For the rest the band stays true to its main inspiration namely the Kings (Albert and Freddie), Albert Collins and Luther Allison. The B3 organ is a nice addition and reminds a bit of Jimmie Vaughan's Tilt a Whirl band. There's a majority of originals, that alternate rhythms, moods and styles (I dig the funky Ice Machine) and a couple of well choosen covers from Stevie Ray Vaughan and Willie Dixon.

Fred "Virgil" Turgis