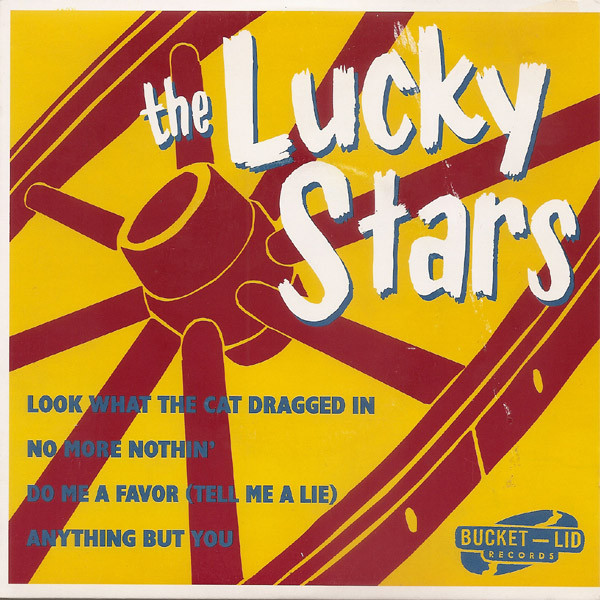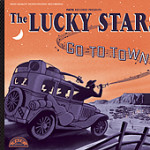 The Lucky Stars – Go to Town
Fate Records 5004
Go to Town – $100 and no sense – Whose hat Is That – Rye Whiskey Baby – Feelin' It – The Way You Walk – Glycerin Tears – Right By Me – Watch Your Step – Lie, Lie Again – If I Were Me – I'll Go the Extra Mile – The Last Call Blues
To my great shame I recently realised that I still hadn't reviewed the Lucky Stars' third album "Go to Town" and felt a bit guilty about that. But the feeling almost vanished when I remembered that these guys made us wait nearly eight years between this one and "Stay out Late" their previous output. It's a bit too long don't you think? Especially if you, like me, consider that the Lucky Stars are, with Dave Stuckey's Rhythm Gang, the best western swing band since the golden age of the genre (and if you thought "What about Asleep at the Wheel?", please leave the room quietly.)
The Lucky Stars are a hot combination of influences and talents. Leading the band is Sage Guyton, the crooner with the moustache, the man with the smooth voice, strong melodies and clever lyrics. All songs here are originals from his pen and if sometimes you hear a bit of Wills here (one time Billy Jack, the other Bob), a little Tex Williams there and the spirit of Merle Travis, they all have that unmistakable Lucky Stars signature. It's in the songs, but it's also due to the band. With a hot rhythm section like Wally Hersom (bass) and Dave Stuckey (drums and lead vocals on The Way You Walk) and Jeremy Wakefield, Rusty Blake and Dan Wenstein trading solos respectively on steel, guitar, fiddle and cornet you can't go wrong. Add a couple of guest on piano and accordion, and you're there Pierre,
A Lucky Stars album is like a party. It opens with "Go to Town" a joyful and exuberant invitation to the fest and ends with "Last Call Blues" when the bar closes its doors . In between, there was room for dance, laugh, tears, swing and, yes, a lot of alcohol.
See ya next decade for the next album guys!
---

The Lucky Stars – Stay out late with
Fate LP5002
Rarin' To Go – Real Good Lookin' – Teacher's Pet – Am I In Love (Or Am I Just Hungover)? – Out Of Your Mind – The Tattooed Lady – (Mama's Got) The Rundown Daddy Blues – Used To Be – My Poor Old Haunted Heart – Don't Count Your Chickens – One Man's Blues – One Of These Days – Stay Out Late
This new album was highly anticipated. Imagine Sage Guyton's hability to sing and write songs combined with Jeremy Wakefield on steel and the support of Dave Stuckey on drums, Wally Hersom on bass and Russ Blake on guitar. Well, if you're into western swing this is the combination that would make your heart flip?!
And it does. The album opens with «Rarin' to Go», the kind of song that takes no prisoner and you know you're not just listenin' to another album but a recording that could stand proudly near Hank Penny, Tex Williams or Bob Wills in your collection. This band swings, I mean REALLY swings, they don't play country songs with steel on a rock beat, you see what I mean? Next song «Real Good Lookin'» gives us the occasion to salute the work done by guest musician Mike Bolger on trumpet, accordion and piano on this album. While we're talking about the musicians I must praise the quality of guitar player Russ Blake and his jazzy licks. A few month ago this guy was totally unknown to me (shame on me) and in the same time I got 3 fantastic records where his talent shines : this one, Jeremy Wakefield's Steel Guitar Caviar and the latest Janet Klein. All this album is a proof that Sage Guyton is not only a fantastic singer but a genius in term of writing songs. Of course you can expect clever lyrics (Teacher's pet, Mama's got the rundown dady blues to name but two) but Sage is more than a guy who writes funny tunes. Just listen to «Out of your mind» and «My poor old haunted heart» (and if you don't cry on these one, you're not realy human). JW sings the two covers of this album «the Tattooed lady» and Cindy Walker's «Don't count your chicken» and the records ends on the instrumental «Stay out late» that could have been recorded by the Western Caravan. But enough said, this record is an absolute must! I just hope we won't have to wait 5 years to hear the next one.
---
The Lucky Stars – The Lucky Stars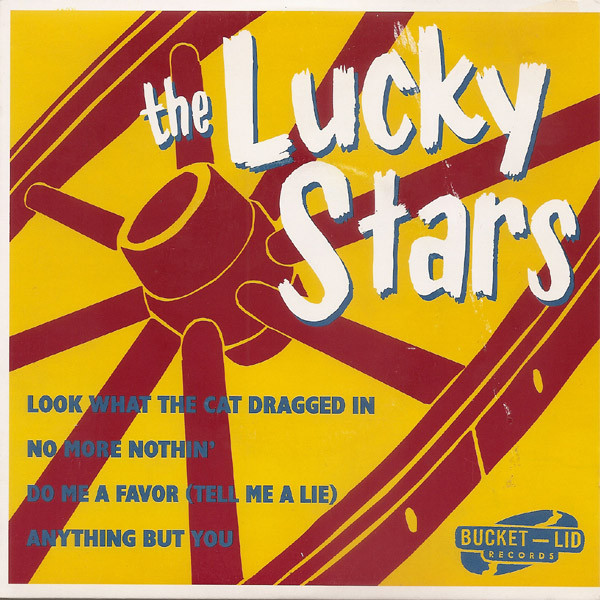 Bucket-Lid BL 502 [1996]
Look Wath The Cat Dragged In – No More Nothin' – Do Me A Favor (Tell Me A Lie) – Anything But You
Dave Stuckey produced and released on his label this EP, and Deke Dickerson, Wally Hersom, and Tim Maag recorded it.
When the band recorded it, the line-up was Sage Guyton on vocals, Brent Harding on double-bass, Jeremy Wakefield on steel guitar, Chris "Whitey" Anderson on accordion and piano, Tim Maag on drums, and James Gilliam on lead guitar.
The opener is a hot western swing tune with an infectious groove embellished with Spike Jones effect. Zeb Turner's No More Nothin' is more swingin' than the original, with Guyton singing it with his unmistakable laid back style. Do Me A Favor is more on the hillbilly side, featuring some great crooning and steel guitar. Anything But You with its accordion is a rompin' Western Swing tune reminiscent of Pee Wee King.
Fred "Virgil" Turgis