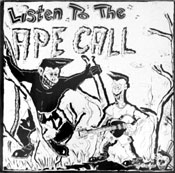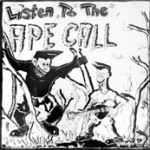 Jungle Noise [1989]
1. Catfish Trio  – Chasin' A Dog  – 2. Little Green Men – Please Don't Leave Me – 3. Cruisin' – Burnin' Love   – 4. Pilgrim Breads – Runic Ryhme – 5. Rockabilly Mafia – I Don't Want To Be A Tennis Playing Shitface – 6. Clear Rats – Night Train To London  – 7. Rockabilly Mafia – Is This Wrong, Baby?  – 8. Swamp Dogs – Ardath Bey – 9. Cruisin' – Where Have You Been?  – 10. Clear Rats – Rockin' Time – 11. Little Green Men – The Little Green Men – 12. Pilgrim Breads – Humdrum And Humbug
Listen to the Ape Call is an excellent compilation of neo-rockabilly with plenty of slap bass and light guitar like they used to play in the 80's.
On the more traditional side stand the Little Green Men (ex Swamp Dogs) who add a touch of jazz and blues to their rockabilly. At the other end of the "billy" spectrum, you'll find the psychobilly sound of the Pilgrim Breads or the Swamp Dogs (again!) that remains one of the most original band to emerge in that period. In between the Catfish trio, Clear Rats and Cruisin are pure neo-rockabilly the latter being the less convincing of the three, playing a weak cover of Elvis' Burnin Love. Rockabilly Mafia, whose style is already in place, completes the set with two songs.
Fred "Virgil" Turgis