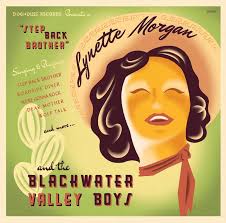 Lynette Morgan And The Blackwater Valley Boys – Step Back Brother
Dog House Records [2016]
Roadside Diner – Wolf Talk – Let's Stay Together – Yodel Song – Step Back Brother – Avalon – Dear Mother – Were Gonna Rock – Portobello Fellow
Since the Tennessee Rhythm Riders appeared on the rockin' scene, we all know that Lynette Morgan is one talented lady when it comes to sing Hillbilly music.
Her latest album, recorded by Pat reyford at Sugar Ray's vintage studio, with Willy Briggs on steel guitar, Gary Boller on double bass and Chris Wilkinson on guitar and drums (being a man of many talents he's also in charge of the beautiful graphic design) definitely proves it.
"Step Back Brothers" is, with Charlie Thompson's Foothill Sessions and the Doel Brothers' recent releases, one of the very best Hillbilly bop/western swing  influenced album to come from Great Britain.
It features two covers – Avalon, the old jazz standard also covered by Milton Brown and the Light Crust Doughboys, and Jimmy Newman/Rusty and Doug's Let's Stay Together – and seven originals penned by Briggs (Roadside Dinner), Briggs and Boller (Portobello Fellow also sung by Boller) and Morgan (the remaining five.)
As I said, this is super fine Hillbilly bop with plenty of Maddox Brothers and Rose influences but also shades of Johnny Horton (Wolf Talk), early western swing reminiscent of Patsy Montana's band the Sweet Violet Boys (reinforced by the presence of a clarinet on three tunes), a waltz (the touching Dear Mother) and a bit of yodel madness (who doesn't like some yodel ?)
Do not miss this perfect album and grab a copy while you can!