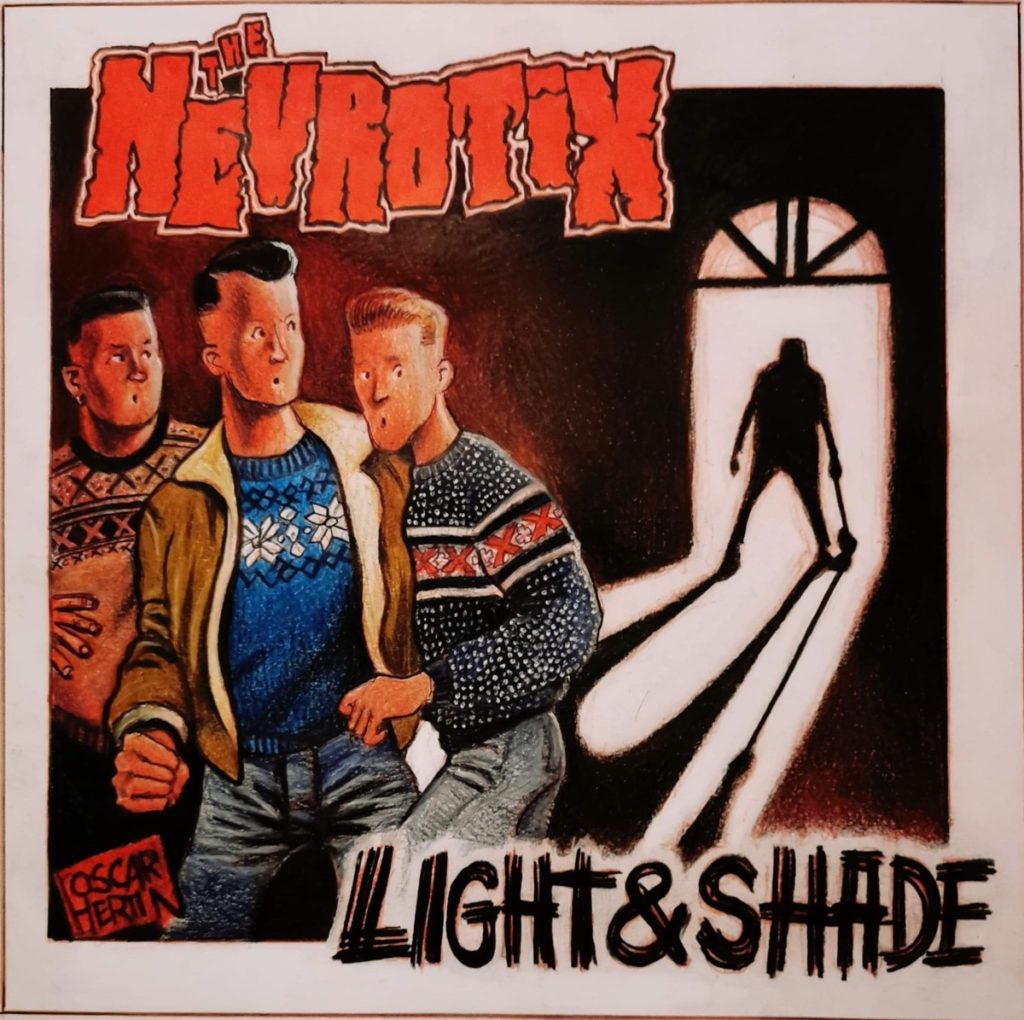 Nevrotix (the) – Light & Shade
Crazy Love Records CLCD 64493 [2023]
Bone Rattle Beat – Blue Again – Creature – She's My Baby – Cast A Spell – Out Of Sight – All That Was – Midnight Boogie – Distance – Parallel World – Aviophobia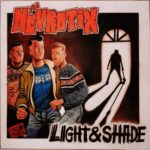 The Nevrotix are Axel Wennerlund on guitars & vocals, Cecil Kriisin on drums, and Henrik Hellberg Lizama on double bass. They come from Sweden and, may I add, wear lovely jumpers. They play Psychobilly. By that, I mean real Psychobilly (we'll debate elsewhere if it's pure Psychobilly), not Punk or Heavy Metal with a double bass. They play with the codes of the genre: a powerful double bass, a light guitar with a clear sound and pounding drums that do not hesitate to slip into tribal rhythms on occasion.
Above all, the Nevrotix has two strong points. First, although they are excellent musicians, what is striking about this trio is its cohesion. We do not have the impression of hearing three individuals or a rhythm section accompanying a singer. On the contrary, the band sounds like a whole, giving the group a unique dynamic. Of course, that doesn't preclude guitar solos (the album is peppered with brilliant guitar parts) or double bass breaks. And all this is for what? This is where we come to the group's second and main strength: their songs and arrangements. The Nevrotix compositions are never content to be simply sped-up Rockabilly with a few zombie-themed lyrics thrown in for good measure. Their Psychobilly is highly melodic, and the seemingly simple songs always move into unexpected territories. Each piece has a slight variation or subtle change that will make all the difference. Take songs like Out Of Sight or the Distance, for example. What could be, for the former, a fast track with muffled chords, à la What The Hell (Frantic Flintstones), is quickly transformed into something new by a subtle melodic variation.
The group also manages to brilliantly translate the lyrics' atmosphere into music. Again, we feel that it has been thought of as a whole. For example, Blue Again is a fast track with a catchy riff that accompanies the track and enters your head like the singer's discomfort.
Cast A Spell is another track that conveys the narrator's fear and angst through music.
The group also excels in tracks containing rage and danger, bursting out in brief flashing moments. Thus Bone Rattle Beat is almost based on the double bass and the drums giving the track a jungle atmosphere, evoking Batmobile's Zombie Riot or the Meteors' Voodoo Rhythm before accelerating on the chorus. Another song that carries a high dose of danger is Midnight Boogie. Everything about this song screams "danger", yet listening to it makes you want to roam the city with your friends in the middle of the night.
The group welcomes some guests on certain tracks. Thus we hear Terry Drybone of the Magnetix on Creature bringing his mean voice to this strange alien story. All That Was is a superb dark country/country noir ballad featuring Gunnar Frick on pedal steel guitar, on which Axel duets with Hanna Wennerlund (any link?). The feel is close to the duets recorded between Sparky and Emmanuella of the Hillbilly Moon Explosion. The album closes with Aviophobia, a fast instrumental featuring Anton Eriksson (the Test Pilots) on guitar and, surprisingly, but a good surprise, a saxophone played by Oskar Bäcklin.
One last word to tell you that the production is faultless from start to finish and that the famous Oskar Hertin drew the cover.
Don't think twice, and grab a copy of this terrific album right now! I said NOW!
Available on CD and LP at Crazy Love Records
https://www.facebook.com/thenevrotix
Fred "Virgil" Turgis