Minestompers (the) – Minestompers (the)
Crazy Love CLCD64354
Minestomp – Mama's Clit – Invasion – Toxic Avenger – Drive By Cumshot – Possessed To Skate – Surfride To Hell – Bukkake Blues – Demon Twist – Leprechaun Boogie – Place To Go – Bad Dreams – Stomp Around The Swamp – Tohuwabohu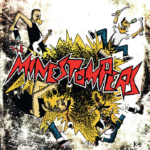 The Minestompers are a German quartet founded in 2008 with Daniel Gotsche on bass, David Naumann on lead vocals, Martin Grobe on drums, and Max Jakuschew on guitar. This is their debut album.
They play wild and frantic Psychobilly with an electric bass. Soundwise one could compare them to the early Coffin Nails, the Termites, the Frantic Flintstones ("the Nightmare continues" era,) and of course the Meteors.
The singer has a raw and raspy voice, sounding more like Sparky or Koefte than Steve Whitehouse if you want, but their guitar player while mean aggressive keeps the Rockabilly element to the band.
All songs are originals, except for Possessed to Skate, a cover of Suicidal Tendencies, which introduced by none other than Chuck Flintstones.
The songs deal with the usual horror themes (Toxic Avenger, Surfride to hell, Leprechaun Boogie) but the Minestompers also prove they're no stranger to poetry with songs like Mama's Clit, Drive by Cumshot, or Bukkake Blues.
If you dig the heavier side of Psychobilly, jump on this album.
The Radioactive Kid
Share the post "Minestompers (the)"