Minestompers (the) – Porno Mags and Body Bags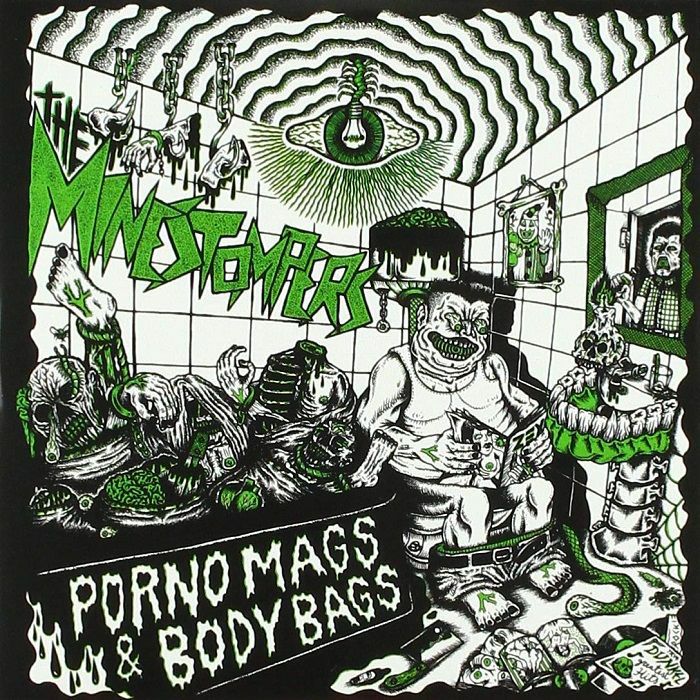 Crazy Love CLCD64410 [2019]
Shellack Smile – Bone Breaking Beat – Vinyl Wonderland – Whirlwind – Attack of the Space Sluts from Planet C.U.N.T. 6 – Porno Mags – Pogo the Clown – Unleashed – Cop Killer – Demon up my Arse – Suburban Savages – For a Fistful of Schlonz – One Last Record
The Minestompers, my favorite Psychobilly poets, are back with their second album on Crazy Love records. And with songs like Space Sluts from Planet C.U.N.T.S 6 and Porno Mags, how could they fail?
The album kicks off with a powerful instrumental part Batmobile's Dynamite, part Meteors. After that hot introduction, the band takes you into a wild psychobilly rollercoaster. The Minestompers are among those bands who favor the electric bass rather than the near mandatory slap bass. It gives them a sound somewhere between the very early Guana Batz (before Sam joined the band), the "Ein Bier Bitte" era of the Coffin Nails, and the Mad Pig period of the Meteors.
Max, the guitar man, always keeps a clean sound that works very well and is complimentary with the fat electric bass sound.
Their melodies are original and varied. It ranges from the strolling Whirlwind to the title track – a rewriting of "Brand New Cadillac" with new lyrics – with a cover of Body Count in between and the Diddley beat of "Suburban Savages."
The whole album is very well balanced, and all songs are great. However, I particularly enjoyed the blues-inspired "Demon Up My Arse" (with harmonica), "Pogo the Clown" which alternates paces and reminds me of the Griswalds' "Night Hawk" (on Psychobilly Tendencies) and the second instrumental of the album, the Morricone meets Surf "For a Fistful of Schlonz."
The Besides the cd version and the usual black vinyl, Porno Mags & Body Bags is also available on pink, orange, yellow, and red vinyl, and the superb cover really deserves the vinyl format. Grab it, you know you can't resist!
The Radioactive Kid
Minestompers (the) – Minestompers (the)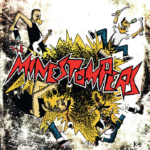 Crazy Love CLCD64354
Minestomp – Mama's Clit – Invasion – Toxic Avenger – Drive By Cumshot – Possessed To Skate – Surfride To Hell – Bukkake Blues – Demon Twist – Leprechaun Boogie – Place To Go – Bad Dreams – Stomp Around The Swamp – Tohuwabohu
The Minestompers are a German quartet founded in 2008 with Daniel Gotsche on bass, David Naumann on lead vocals, Martin Grobe on drums, and Max Jakuschew on guitar. This is their debut album.
They play wild and frantic Psychobilly with an electric bass. Soundwise one could compare them to the early Coffin Nails, the Termites, the Frantic Flintstones ("the Nightmare continues" era,) and of course the Meteors.
The singer has a raw and raspy voice, sounding more like Sparky or Koefte than Steve Whitehouse if you want, but their guitar player, while mean and aggressive, keeps the Rockabilly element to the band.
All songs are originals, except for Possessed to Skate, a cover of Suicidal Tendencies, which is introduced by none other than Chuck Flintstones.
The songs deal with the usual horror themes (Toxic Avenger, Surfride to hell, Leprechaun Boogie) but the Minestompers also prove they're no stranger to poetry with songs like Mama's Clit, Drive by Cumshot, or Bukkake Blues.
If you dig the heavier side of Psychobilly, jump on this album.
The Radioactive Kid