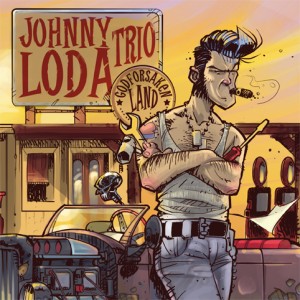 Johnny Loda Trio – Godforsaken Land
Part Records – 675.002
Fish Outta Water – Holiday – Hotrod Cafe – The Rockin' Gipsy – Its Always A Sunny Day – Her Love Rubbed Off – Godforsaken Land – Johnny's FXR – There Was A Time – BBQ Ribs Party – Summertime Blues – Tribute Bands – Surfin' Cowboys – Marina – Funnel Of Love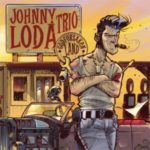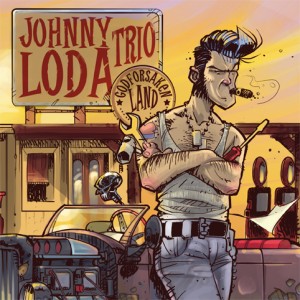 Released in 2012, this album of the Johnny Loda Trio features Ettore Chiavinato, aka Johnny Loda, on guitars and vocals, Davide Boschetti on bass, and Renato Ardizzoni on drums. Rick Miller of Southern Culture On The Skids mixed it and Dave Harris, who worked with the Reverend Horton Heat and Hank Williams III, mastered it.
Godforsaken Land is one hot rocking platter on which one can hear the influences of Ronnie Dawson, The Paladins and Brian Setzer. The band mixes with success Rockabilly, Blues and Country and Western, some with a pedal steel guitar.
Most of the songs are Loda's originals (ten out of fifteen), and they're excellent. Actually, except for Ronnie Dawson's Fish Outa Water, the covers are pretty well known (Funnel Of Love, Summertime Blues, Her Love Rubbed Off, The Rockin' Gipsy) and don't bring much to the records.There's a booklet with the lyrics, which is an excellent idea, as Loda tries to avoid the usual Rock'n'roll cliches like "Drivin' in my hot rod with my tattooed pin-up" if you see what I mean.
For example, Tribute Band is a rant at all those types of bands that ends with "Please kill me if I'll play in a tribute band". Perfect!
Fred "Virgil" Turgis