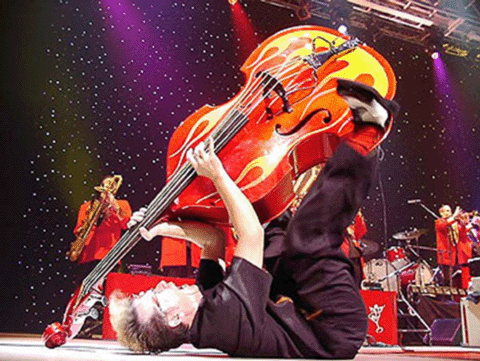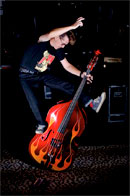 The silky-voiced Tony Bennett. Country music queen Dolly Parton. Legendary protest rocker Bob Dylan. "The King of Rock 'n' Roll" Elvis Presley. All four rank amongst the most recognizable names to ever pick up a microphone; all four have reached the pinnacle of success in their respective music genres.
And all four have utilized the slap bass skills of John "Spazz" Hatton.
Although best recognized as a member of the Brian Setzer Orchestra, John Hatton has been slapping the upright bass for years. From his days as Kansas City, Missouri's go-to bassist to his television theme song work; from his unlikely British Top 10 hit with Big Daddy to his recent stint with popular swing band Royal Crown Review, John has done it all.
How does John Hatton do it? How did he adapt from playing violin with the St. Louis Philharmonic Orchestra to standing on his bass with the Brian Setzer Trio? How did he land a gig with the one and only Elvis? And just how did John acquire the nickname "Spazz", anyway? I recently spoke with the musician to find out.
Conducted by Denise Daliege-Pierce
After years of playing the violin and a two-year stint with the St. Louis Philharmonic Orchestra, why did you decide to forego the instrument?
Johnny "Spazz" Hatton: I just got too many gig calls with the bass.
What made you choose to play the upright bass?
My dad said, 'Why don't you try bass?' He was a teacher with the St. Louis School District. I got a bass; learned all the notes. There was a gal at my school who played bass. She was first chair [in the school band]—I think my dad gave her first chair because she was so tall. I wanted first chair! She became bass player with the swing band. A friend of mine played cello, and he had a guitar with bass strings on it—it was an old Sears & Roebuck guitar, and he had cut new notches in the nut. That was [with] the Marauders, my first high school band. Girls said we were cool. We started making money and playing teen dances, and I had this little book that I wrote our gigs in; what we made.
I kept playing the violin into our college years and was concert master. I had been playin' bass with The Morticians. We'd have our schoolmates follow us, kind of in a funeral procession, and we'd turn our [car] lights on. We wore black suits and black turtlenecks; that's how we got the name "Morticians". We played these little towns in Missouri.
How difficult was it to switch from the violin to the upright bass?
It was pretty easy to switch over to the string bass. The fingering is pretty easy. Kids see bands today and they say, 'I wanna play guitar! I wanna play drums!' Those are cool. They never say, 'I wanna play bass!' I dropped out of college after five years, just a half year from my masters, and started playing jazz clubs. I got called up for the draft and failed my physical. Otherwise….
What type of bass do you use? Why that particular brand?
One I use for Brian Setzer is King Doublebass. They're in Santa Ana, California. These guys—or one of 'em did—his name is Jason Burns. He would take old Kay basses and paint 'em with, like, twelve coats. Plywood basses are best for playing rockabilly. You need a bass that doesn't have so much tone. Hand carved basses are best. They found that, if they layer 'em with paint, they have a better tone. It has a really lousy tone, but when you plug it into an amp, it just kicks. Jason and his friend, Brad Johnson—he became CEO—do a great job. I also use different basses for my jazz and studio gigs. I named them. Would you like to know their names?
Of course!
Well, there's Berta, she's German; Consuela, my Mexican handmade bass; my Ampeg bass, Peg; Kay, my Kay bass. My King bass is named Boom Boom; my flame bass—the one with the flames on it—is Blaze, and Dale, after Dale Evans. How many is that? Seven?
How did you meet Three Sounds pianist Gene Harris? What was your experience working with him like?
Gene—he had a lot of friends in Kansas City who would hire him for different functions. I worked for [pianist] Pete Eye. Gene would come in and see Pete play. I became good friends with Luther Hughes, Gene's bass player. Luther left, and he said, 'Do you want my gig?' [My wife and I] loaded up the motor home—it was more of a van with a high top. My wife's brother-in-law sold me a motor home. It was really nice. I remember when Gene was off, we'd park at Marina del Rey. There was a whole line of motor homes there. I played with Gene for about two years and on Yesterday, Today & Tomorrow. I got a little disenchanted. He was gonna do another album, and he didn't need me on it. I went back to Kansas City; did some jingles.
You also had the chance to work with movie and television music composer, Stan Worth. How did that collaboration come about?
I was home about two months and got a call from Stan Worth. His bass player was leaving, and he asked me if I wanted that gig. He was the guy who wrote "George of the Jungle", "Rocky the Flying Squirrel"…a bunch of others. We sold the house and the motor home, and went back to California. I started working with Stan at the Hilton Inn—that was about '74.
What television theme songs did you record with him?
We did "Fun Factory"—that was a variety TV show with Bobby Van. We did a TV show called "High Rollers"; Stan was musical director on "Name That Tune".
While living in Kansas City, you had the opportunity to play bass for Elvis Presley. What are your memories of performing with "The King"?
This was around 1968-'69, and I think that this was when he did the '68 Comeback tour. I wasn't really an Elvis fan. I had been playing in this big time music scene. Musicians didn't travel with big bands back then—they would hire local musicians to play with them. I played with Liza Minnelli, and someone called me and asked me if I wanted to do the Elvis show, and I said, 'OK!' We went down to the rehearsal and were told to wear black pants and a white shirt. They gave me a vest to wear. I bought a couple Elvis albums to listen to what he sounded like. The musicians were told, 'You guys are gonna just play the introduction, the 2001 theme.'
Before the show, I'm backstage, and I saw Elvis and the Colonel talkin' in the hallway. Elvis sees me waiting there, and he says, 'You want me to sign those for ya, sonny?' He signed my two albums. I don't know what happened to them.
We're on the stage and the whole house goes dark. We start playing the 2001 theme. The flashbulbs start goin' off. It looked like noon during the day. That will always stay with me until I croak. There was one guy [Charlie Hodge] playing an acoustic guitar. He wasn't plugged into anything—I think it was just for show. He'd follow Elvis around the stage and hand out scarves. [Elvis] was wearing a white jumpsuit with all the studs and the bell bottoms, and a red scarf. Ronnie Tutt, who's famous for the Octopad, played that gig.
The musicians you have had the chance to perform with are a virtual who's who of the industry: Little Richard, Hank Ballard, Al Jarreau, Brian Setzer—the list goes on. Who was your favorite to work with, and why?
Well, I think Setzer, 'cause he's so high energy. I had to kick up my performance with him. I didn't really know how to play rockabilly. I met Geoff Firebaugh from Nashville. He showed me flapping, where you use both hands. Other guys showed me, 'Here's how you stand on the bass.' Plus, the music: you have to be able to sight read notes, "flyspeck", as we say in the business. The second time is just changes. The musicianship is incredible. I'm overjoyed to be associated with that.
While we're on the subject of Brian Setzer and musicianship, during live Brian Setzer Orchestra shows, while the big band takes a break, you join Brian and drummer Tony Pia onstage for a stripped-down, Stray Cats-style mini set. How do you enjoy performing as part of the trio as opposed to the entire big band?
It's weird. I like the big band because I like playing with the horns, and I've been playing jazz since Kansas City.
The trio is fun. It's a workout. You're throwing the bass in the air, and that's fun. The music in the big band is reading—and hard. I learned how to climb on the bass in two hours, but sight reading notes took me twenty years. That's the enigma.
During the 1980s, you joined Big Daddy, an eight-piece group that turned modern songs into '50s-style classics; a "Weird Al" Yankovic meets Sha-Na-Na type of project. Did the group's overseas success with its cover of Bruce Springsteen's "Dancing in the Dark" surprise you?
I think a couple of guys in the band had good business sense. Marty [Kaniger] had a skill on the phone and was good at sales talk. We were in [the movie] Book of Love. We did things with Little Richard; we did a video with him and Vin Di Bona, the producer of America's Funniest Home Videos. We did Las Vegas for five or six years at the Tropicana. We played in Lake Tahoe at Caesars. We did a couple tours of England. We had a tour of Australia. I remember driving north of London to Newcastle, listening to the radio, and "Dancing in the Dark" came on. We changed stations, and it was playing on another station. Simultaneous play of "Dancing in the Dark"! The cool thing about that band was we all played a role in the arrangements. It was a three-ring circus without a ringmaster.
Is there any chance of a Big Daddy reunion?
We did Bubbapalooza in the '90s. We decided to get the band together for a show, but we could only remember 45 minutes of songs. We all got drunk. I think we should get into the studio and see what happens.
How did the "Spazz" moniker come about?
Everyone kinda had their own persona in that band. We had a biker guy, a 'Bubba' kind with greasy hair, a gold-lame-lightning-bolts guy….What about me? I saw this other band called Captain Cardiac and the Coronaries. They had a bass player. His character was a nerd. I got a slide rule and a bow tie, and I got a flat top. Nobody had a flat top. I found some old glasses from the '70s and put some tape on them.
Up at Tahoe, I got to sing a song. I sang "Stagger Lee". I'd rip off my coat during the song, as if I was a sex god. I tripped over too many mikes and knocked 'em over—it wasn't deliberate, I was just clumsy. Stagehands started calling me "Spazz", and it stuck.
You've also performed with rockabilly pioneer Billy Lee Riley.
That was a great, great experience. Ray Hermann, lead alto [sax for the Brian Setzer Orchestra] and Johnny Hallyday helped. Brian Setzer had been playing with [Hallyday] "The French Elvis". Ray got me and [then BSO drummer] Bernie [Dresel] on one of his recordings, "Blue Suede Shoes". The Montreux Music Festival wanted to do a tribute to Sun Records in Switzerland. We backed up Sonny Burgess, Billy Lee Riley; Brian May. Billy Lee told me, 'When I was playin', the bass was only slapped if there wasn't a drummer.'
Who are some of your favorite bassists, and why?
Ray Brown, for his melodic playing, and Jacko Pastorius. Oscar Peterson—I used to have a record I'd listen to over and over again. Dick Youngstein of UMKC Conservatory of Music…when I heard this guy play, I'd go, 'Wow, that's how it's played!' His bass boomed, growled…was angry. Bass should pound in jazz. [It's] the constant in jazz and swing. Bass is what holds it all together.
You have played nearly every style of American music, from jazz to swing to rockabilly. Which is your favorite to perform?
I gotta lean toward swing and rockabilly/big band. I like that power. The bass and the drums is the power. Same with rockabilly—bass and drums just drive it. I'm still lucky to be doin' it. I deduct the cost of strings and music expenses from my taxes, and 'cause I've taken losses the past few years, now, they [the IRS] call it a "hobby". I don't know how to do anything else.
Do you currently perform with any other acts when you're not on tour with the Brian Setzer Orchestra?
I'll be playing with this group called Richard Cheese & Lounge Against the Machine. He opened for Brian's band. He'll take the filthiest song—the filthiest rap song—and turn it into a lounge song. It's hilarious.
Let's return to the subject of the Brian Setzer Orchestra. How did you become a member of the group?
It was because of friends I knew in the band. Bob Sandman was the sax player in Big Daddy, and he could sight read. Bob and I had played in other situations; he knew I was a good reader. Bob got the gig as a tenor sax. Mike Acosta resigned, and Bob Sandman got the musical director chair. This was before they had The Dirty Boogie album. We never listened to Brian Setzer or the Stray Cats, but we heard what Brian was doing and said, 'This is jazz!' We knew all the guys in the band. I was workin' in a band here in L.A. called the Hodads. If the Brian Setzer Orchestra made $1,000 a week, we were makin' three times that much a week. I had a financial hardship, so I turned him down. He was using Mark Winchester from Tennessee, but flying him in and hotels were costing too much.
On my first gig, at the Hollywood Hard Rock, they said, 'Here's the book; here's the tunes. We go on in 40 minutes.' It was excruciatingly loud. Everyone else used earplugs; I hadn't used earplugs before. Brian was playing through two amplifiers, Bernie was bangin' away on the drums, and I couldn't get my earplugs in. In my book, there was a chart with brown splatter on it. I asked what it was, and someone told me, 'Oh, that's blood. The bass player's fingers exploded.' The guys were wearing white shirts, and blood sprayed all over the back of 'em.
That was a one nighter. Brian started calling me to help him and Bernie demo the songs. I also did the master recording for what became Vavoom!, although they replaced my parts, I think with Mark Winchester. I knew they were going to do it, and I said, 'OK.' Mark Winchester left, and [Setzer's solo album] Nitro Burnin' Funny Daddy was the first album with me on bass.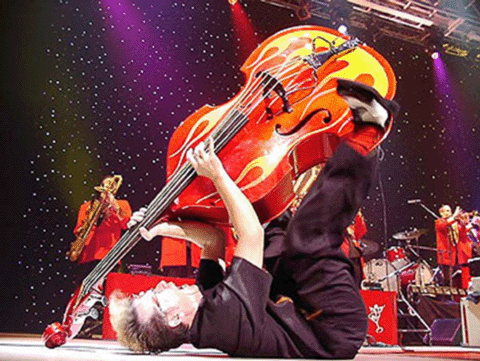 Which BSO album that you have contributed to is your favorite?
That's hard to say. That's gotta be the most recent one [Wolfgang's Big Night Out]. They got Frank Comstock to do the charts—he wrote the music for Dragnet and Adam-12. He hadn't written anything in years. He said he didn't know if he could do this anymore. They started crankin' out two charts a week. This, you had to read the note in the arrangement. [Comstock] called me up, 'cause I wrote an article in a local musicians paper, and wanted to thank me. The "Nutcracker" chart—Frank said he wrote that chart for Les Brown.
The Brian Setzer Orchestra has been nominated for Grammy awards on numerous occasions, most recently for Wolfgang's Big Night Out. How did it feel to receive the nomination?
Hey, I wish we could've got it. Turtle Island String Quartet got it. We've gotten nominated for every CD since I've been on: Nitro Burnin' Funny Daddy; the Christmas albums. I think last time, George Harrison was nominated, and he was dead.
That doesn't seem fair to the other musicians.
They shouldn't allow dead people to get nominated. Turtle Island String Quartet—at least they have talent. Music isn't real anymore—it's all canned. There's no talent in that.
Arguably, you've achieved your biggest success with the Brian Setzer Orchestra–and at a latter stage in your music career, too. What are your thoughts on this success?
It's about time! It is totally weird you think I'm too old to make the big time. It's a dream come true. I subbed for the bass player in Europe for Royal Crown Review—he doesn't like to travel—and everywhere we played, people recognized me from the Brian Setzer Orchestra. I still think of myself as a jazz player playing $100 gigs. What's cool is I don't have to buy equipment anymore—I get free amplifiers or whatever. I want to play it and see where it goes.
John, thanks so much for taking the time to speak with me. Do you have any final comments that you would like to share with the readers of the Rockabilly Chronicle?
If any kids are reading this, or aspiring musicians, they should all learn to sight read. It opens doors. Learn to play everything. I play Dixieland. I played a symphony gig a few weeks ago. Learn to play jazz; learn to play disco. I do the disco stuff. I brought the bass to a gig and they told me we were playing disco; I said that I've got the electric bass in the car, but it worked out really well. It's a love affair I've had with the string bass. Learn to play with feeling. Tony Pia told me, 'Show up on time, play your ass off and keep your mouth shut.'