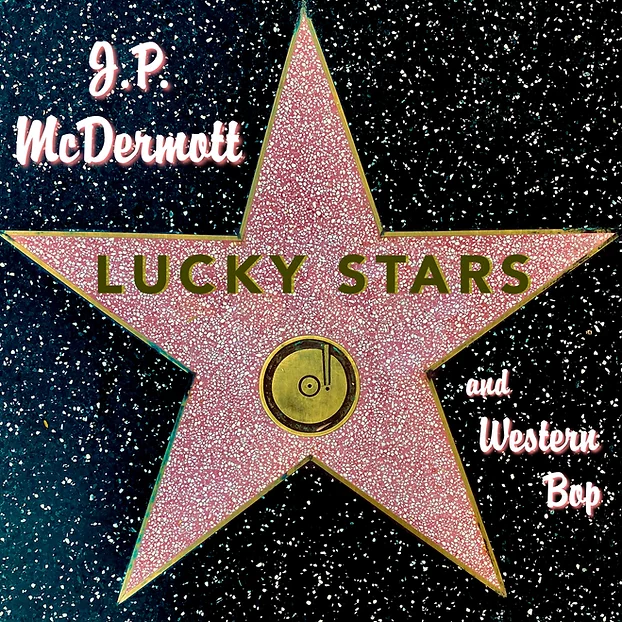 J.P. McDermott and Western Bop – Lucky Stars
Shower Tone Records STR 250 [2022]
Long Beach Stomp / Lucky Stars '22 / (Still the) Last Fool Here / Rock-A-Bye Rock
I'm a huge Buddy Holly fan (and believe me, that's an understatement), and you can imagine my joy to see that J.P. McDermott had released a brand new record. I have McDermott in high esteem because he doesn't copy Holly's style with gimmicks and riffs like poor imitators could do, but he manages to capture his musical spirit.
After relocating to Southern California, he formed a new version of Western Bop (as in "Buddy and Bob, Western & Bop") with D.A. Valdez on drums and Keisuke Motoki on upright bass. He soon felt the urge to record, resulting in this superb EP.
It opens with Long Beach Stomp, a cover of Warren Smith's Ubangi Stomp with updated lyrics from McDermott telling the story of his Californian relocation. It's a great rocker sounding like a Ripsaw classic from Tex Rubinowitz or Billy Hancock, nothing less. The second track, Lucky Stars, is well-known to anyone who follows McDermott. He recorded it on Last Fool Here, his debut album and Dagmar and the Seductones also did an excellent version. This song is one of the great modern Rock'n'roll classics mixing a Buddy Holly feel with a Tex-Mex beat (or is it a Tex-Mex beat with a Buddy Holly feel?) Anyway, it's great. Could the new incarnation of Western Bop bring something new to something that's already perfect? The answer is a massive YES. Powerful yet melodic. We need more tunes like this. Last Fool Here also comes from the band's debut album. But this new version has nothing to do with the original. While the previous version was a gentle and subtle ballad on a waltz time, the 2022 rendition of the same song is a hard-hitting country rocker with a twangy baritone guitar. This one rocks like no tomorrow and, although radically different, is equally good.
This all-too-short EP ends with a superb cover of Rock-A-Bye Rock, one of Buddy Holly's lesser-known tunes (recorded during the same session as Changing All Those Changes). McDermott's rendition remains faithful to the original, but as I said in the introduction, he brings a welcome touch of modernity to the song.
Do I really need to write a conclusion saying something like "I warmly recommend you this Ep"? Just follow this links:
https://www.westernbop.com/
https://www.facebook.com/WesternBop
https://www.instagram.com/jpmcdmusic/
---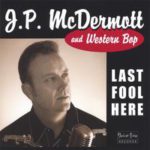 JP Mc Dermott & Western Bop – Last Fool Here
Shower-Tone Records
My Damn Baby – Do I Love You – Cry Cry Cry – Coulda Shoulda Woulda -Not Enough of You – Blue Days, Black Nights – Lucky Stars – Sixteen Chicks – Go Cat Go! – Heartaches for a Dime – That Ain't Nothin' But Right – Last Fool Here
JP Mc Dermott is one hell of a singer. He has been voted "Country vocalist of the year" by the Washington Area Music Association. Backed by talented and competent musicians of the Washington area like Bob Newscaster (Tex Rubinowitz, Billy Hancock and more recently Dagmar & The Seductones), he delivered an album rich in styles and genres.
Whatever the kind of rockin'/roots stuff you like, you'll find one here for you: from wild and fast-paced rockabilly (the first song, "My Damn Baby", is a total killer, as is his cover of "16 Chicks"), a bluesy song with a hot greasy sound on the guitar (Do I Love You), or some classic country (Cash's Cry Cry Cry) and Honky Tonk (Harlan Howard's Heartache for a Dime). "Go Cat Go" is an instant hymn for all the rockabilly cats and would have made Carl Perkins proud. "Lucky Stars", a song also played by Dagmar And The Seductones, is a fine rockabilly tune that shows the influence of the great Buddy Holly. The kid from Lubbock is also represented with "Blue Days, Black Nights", a fine rendition with perfect harmony vocals. On the slow side, "Not Enough Of You" is a beautiful ballad, but the real gem has been kept to end the album: "Last Fool Here", a soulful waltz with a 60's country feel. Backed by just a piano and a light rhythm section, the fantastic voice of McDermott could make the strongest man in the world cry.
Fred "Virgil" Turgis