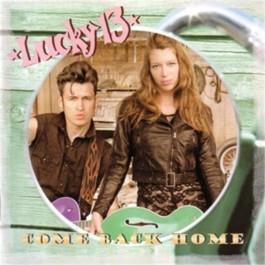 Lucky 13 – Come Back Home
Part Records PART-CD 6111.001 [2014]
Black Slacks – Moonshine – Jungle Fever – You Are My Destiny – Come Back Home – Bad Girl – Get Off The Road – 44 – Maniac Babe – Bad Reputation – Purple Flames And The Lost 13 – Wish You Were Dead – The Cats – Far Far Away – In The Moon For You – Tough Guys – 44 (acoustic version) – In The Bar – Liar – Happy End.
Lucky 13 are a hot rockin' trio centered around the charismatic personnalities of Ed Mind on guitar and Ani Romance on electric bass with, on this platter, either Jimmy Cash or or Lance Matthyssen on drums. Both Romance and Mind write solid originals and sing which brings a lot of variety in term of sound and style.
The songs gathered on "Come Back Home" have been recorded over a period that goes from 1998 to 2012.
Their music takes its roots in the rockabilly of the fifties and goes as far as Psychobilly in the style of the Anagram era of the Meteors with everything cool in between. You'll find some rompin' instrumentals, 60's Girl bands stuff (Paul Anka's You are My Destiny excellently sung by Romance), 80's neo-Rockabilly (a superb cover of Red Hot'n'Blue's Bad Girl or Moonshine that many of us discovered on the Deltas debut album), and some darker stuff reminiscent of the Cramps or Empress of Fur (and their bass palyer can stand proudly next to Candy Del Mar, Ivy Poison or Venus Raygunn in term of "girl with a bad attitude".)
If you like real rockin' music and don't aim for a purist sound, and dig the bands mentionned above, be sure to grab a copy of this platter.
Fred "Virgil" Turgis