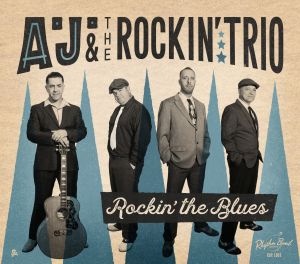 A.J. and the Rockin' Trio – Howlin' at the Moon
Rhythm Bomb RBR5827 {2016}
Waiting For You – Hot Rockin' Mama – She Do The Bop – Lonesome Sinner Blues – Let's Howl At The Moon – Hey Senorita – Miss Bobby Sox – You Lose – Gunfight At OK Corral – Baby Baby – Feel The Motor Runnin' – Even The Blues Don't Wanna Get Along With Me
A.J. and the Rockin' Trio come from Portugal. This is the band's debut album. they play Rockabilly both traditional and wild with a particular care brought to the changes of atmospheres using different microphones on the voices and lots of little things like that that keep hinges interesting. Lonesome Sinner Blues and Gunfight at OK Corral feature a trumpet and a trombone for a mariachi/ classic western movie feel and Even the Blues don't wanna Get Along With Me has a jazz feel and features a lap steel. In the end it makes a very entertaining and varied album. Recommended.
Fred "Virgil" Turgis
---
A.J. and the Rockin' Trio – Rockin' the Blues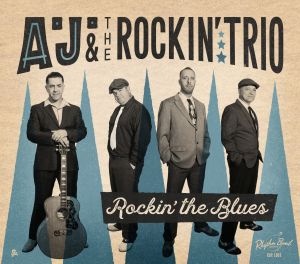 Rhythm Bomb Records – RBR-5869
Moonshine Blues – Can't Take It Anymore – Done Me Wrong – Girls Wine Kiss & Love – Rockin' My Blues – Crazy 'Bout That Baby – Call Me (I'll Be Here) – All Day and Night – You Should Have Known – Rockabilly Fever – Have a Ball – You Can't Run Away – From Your Blues
Rockin' the Blues is the band's second lp. It contains twelve songs and one cover, Leon Rhodes' Have A Ball.
If not exceptional and sometimes limited at places, A.J. has a good voice, and the musicians of the Rockin' Trio are more than competent. The thing is that the final result, though rather pleasant, lacks originality and personality. Most of the songs are average Rockabilly, ranging from the Burnette influenced Moonshine Blues to the more traditional Done Me Wrong, which features a piano and Pedro Sera on harmony vocals.
There are some attempts at mean Rock'n'Roll like Can't Take It Anymore and its hypnotic riff as well as Hillbilly Swing, which, despite the efforts of the band and their guest trombonist, has a hard time to really swing.
Coral Lee appears on Call Me, a tune that evokes Sea Of Heartbreak.
Unfortunately, she only sings harmonies. It's a missed opportunity for her beautiful voice would have been perfect for a duet.
The best and most exciting song of the album is by far the country-noir You Should Have Known.
Lyrics are included, and not surprisingly, most of the songs talk about women, booze, and often both.