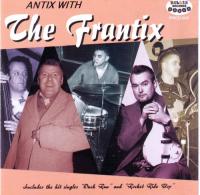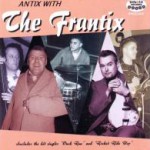 The Frantix – Antix With the Frantix
Rollin Records RRCD-008
Mama,Mama,Mama – Duck Run – Big Time Mama – Alligator Meat – No Lovin' No River Blues – Mean Evil Woman – Rock Around The Town – Rock And Roll Fever – What's Inside A Girl – Filth – She's My Baby – Rocket Ride Bop – Stone Killer – Hep Cat – Toe Rag Stomp – Trouble With A Capital T – Never Been So Lonely
Believe it or not, the Frantix exist since 1981 but this is their first long player (though they appeared on compilation albums). The band has gone under a few line-up changes. The first two third of "Antix with…" has been recorded in 2008 and 2009 with Jerry Brill (vocals), Graham Murphy (lead guitar), Boz Boorer (rhythm guitar and sax) Roger Van Niekirk (drums) and Neil Scott (doublebass), the remaining titles were recorded in 1994 and feature Malcom Chapman (lead guitar) and Craig Shaw (rhythm guitar). You can say you're in good company with members of the Bobshack Stompers, Carlos and the Bandidos, The Excellos, The Polecats etc.
The opening number, "Mama, Mama, Mama", is a classic rockabilly that reminds a lot of "That's Allright". Then everything goes wild with "Duck Run" a Batman like instrumental written by Boorer with a dirty sound and wild screams added for good measure. And from that moment you're on for 45 minutes of some of the finest rock'n'roll recently recorded featuring Diddley beat ("She's My Baby" with maracas and sax), strip clubs instrumental ("Filth" with sax) and of course a majority of wild and raucous rockabilly, including a cover of the Cramps' What's Inside A Girl". Talking about The Cramps, "Rocket Ride Bop" is not that far from their sound and reminds me a bit of "Rock On The Moon". Hey, what did you expect? This band is called the Frantix not the Sweetiz or something like that. Even on mellower tunes like Jimmy Sysum's Big Time Mama you feel the urgency in Brillo's voice. Just plain great!
Recorded live, for some parts at Toe Rag, this is what rock'n'roll should be: raw, wild, nervous and most of all thrilling.
Fred "Virgil" Turgis