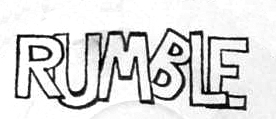 Rumble records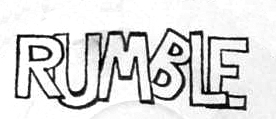 Rumble records was a German label based in Bochum. They specialized in Psychobilly and Rockabilly.

7″ singles
12″ EP's
12″ LP's
CD's
Vinyl Frontier
Vinyl Frontier was a sub-label of Rumble records for vinyl reissues.
Black Lagoon
BL001 and BL002 were released with Black Lagoon fanzine.
BL003, BL004 and BL005 were released with Demon Love fanzine.
Various – Black Lagoon No. 1 – The Skateboard-Killer – BL001 [1991]
Various – Black Lagoon No. 2 – Empty-Rooms – BL002 [1992]
Various – Black Lagoon No. 3 – Eddie's Return – BL003 [1992]
Various – Black Lagoon No. 4 – German Billies – BL004 [1993]
Various – Black Lagoon Vol. 5 – BL005 [1994]