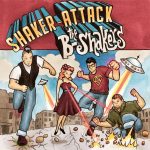 The B-Shakers – Shaker Attack
Part Records – PART-CD 6130.001 [2021]
When I Mess Around (With You) – Rocket Gal – Shaker Attack – I Wanna Boogie – Before I Leave My Dear Alone – I Got A Hole In My Pocket – Next Time – Chicken Circus – Kiss Me – Roadrunner Blues – Big Bad Handsome Man – Cause You're My Baby
The B-Shakers are a Swiss Rock'n'roll band led by the powerful, husky and mean voice of Martina Vogel their lead singer. The musicians – Philipp Oeggerli on double bass, Roger Meier on drums and Thomas Grenacher on guitar – are excellent. The lead guitar blends perfectly with the rhythm section (which features a robust double bass.) The whole thing is perfectly recorded, and it manages to capture the band's energy.
Most of the songs (all originals but one) are modern Rockabilly, and I guess that fans of Imelda May (whom they cover big Bad Handsome Man) would appreciate it.
After listening to Rocket Gal and Shaker Attack that sound alike, I was afraid the album would be a collection of no-brainer rockers. Fortunately, the rest of the album proved me wrong, and the band added a welcome touch of diversity.
Hence, you can find some blues-inspired tunes (I Wanna Boogie), a touch of hillbilly too (Before I Leave) and a hefty dose of Surf (the instrumental Chicken Circus on which their guitar player shines). Also very efficient is their mix of Rockabilly and Blues à la Paladins (I Got A Hole).
All in all, it's a delightful surprise.
Fred "Virgil" Turgis
The B-Shakers on facebook