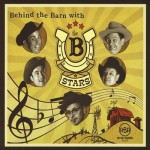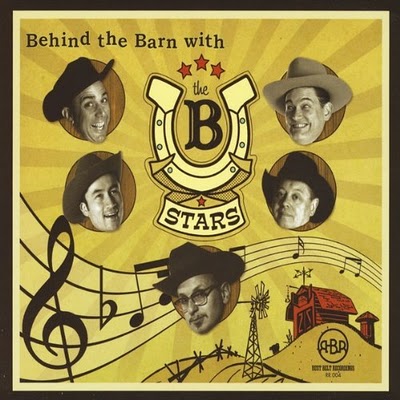 The B-Stars – Behind the Barn With
Rust Belt Recordings – RR004
Ink Free Baby Of Mine – Drunk On Whiskey – Duckin And Dodgin – Texas Boogie – Left It All Behind – Women And Wine – Pretty Baby – Back Up Buddy – Sweet Little Things – Walking Home Alone – Trouble Free State Of Mine – Broken Down And Blue
A particularly strong debut for the San Fransisco based combo. This five piece band (Greg Yanito – guitar and vocals; Eric Reedy – string bass and vocals; Bill McKenna – electric guitar; Mikiya Matsuda – steel guitar; Billy Zelinski – drums) rips through a set a good ol' country music. Both Yanito and Reedy sing and compose – and they know how to write songs that sound like little classics – which also keeps the set varied. You'll only find two covers, Gene O'Quinn's Texas Boogie and Carl Smith's Back Up Buddy, Smith being an obvious influence on the band.
Carl Sonny Leyland sits in and plays piano on four tracks adding a good dose of country boogie and even rock'n'roll (Pretty Baby) to the mix. There's also some country swing (Duckin' and Dodgin'), a bit of Bakersfield (Women and WIne, Sweet Little Things) and a superb Hank Williams influenced number (Trouble Free State Of Mind).
It is tastefully produced by Lee Jeffriess and you can hear his touch on some steel guitar/guitar arrangements reminiscent of his work with Ashley Kingman in the Fly Rite Boys.
If Carl Smith, Hank Williams, Merrill Moore, Wayne Hancock, Big Sandy are sweet words to your ears, be sure to add the B-Stars to your list. And it's not only a pleasure for your ears, but also for the eyes as it comes in a nicely designed digipack.
More infos at http://thebstars.com/
---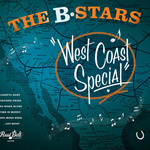 The B-Stars – West Coast Special
Rust Belt [2012]
Careful Baby – Still Waiting – King Of Fools – My Window Faces The South – Another One Tomorrow – Time Is Money – When The Darkness Turns To Light – Chicken Fried – One More Beer – Revolution 45 – No Work Blues – Honky Tonkin' Rhythm
San Francisco based honky tonk/hillbilly swing band the B-Stars have seen some changes since their debut album. They return with a refurbished line-up and a new platter full of hillbilly rhythms. They remain true to their main inspirations, saying Honky Tonk heroes of the 50's and early 60's (from Hank Williams to Carl Smith) but they also add a good dose of western swing to their set. It generally works pretty though I'm a little less convinced by their cover of My Window Faces the South. Whether it's the production or the arrangement, it sounds a bit too "modern" for my tastes and closer to Asleep At The Wheel than Bob Wills. But that's a minor flaw and they have a majority of solid originals and the musicianship is trong, one of the best exemple being the interplay between the guitar and the steel on Still Waitin.
Available on 10″ vinyl and cd.
Fred "Virgil" Turgis