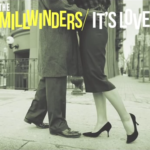 The Millwinders – It's Love
MW002
There goes my baby – Move me so – Shame – Trouble – Blue blue heart – How blue – Don't you dare – No vacancy – Two timin fool – The only fool – Bumble bee – The one who loves me – It's love
A wise man called Bo Diddley once sang "You Can't Judge A Book By The Cover". He sure was right but when you look at the Millwinders' second album and its Blue Note inspired cover, you can't help but have a pretty good feeling about what's coming next.
And you're right! This brand new album, made of twelve orginals and one cover, is excellent.
Since their previous effort (Ladies and Gentlemen in 2014) the Millwinders have expanded their sound and added 60's elements like Soul and a bit of Girls groups to their musical gumbo. The result is a wide range of styles covering almost the whole array of roots music.
To help them achieve their vision, they asked Deke Dickerson to produce and mix the record. His presence and experience can be felt throughout this album. But most of the credit must be given to the band.
In case you wouldn't know this canadian quartet, let me introduce you those fine musicians. On vocals, guitar and bass is James Henry. Mark Sanders plays lead guitar. Teddy Fury who previously played with James in the Royal Crowns and was in the Bopcats back in the 80's, is on drums and last but not least Sarah Butler on vocals and upright bass. And man, can this girl sing!
She's equally at ease with a Motown tinged track ("There Goes My Baby" that opens the album with Deke on baritone sax) than with a hot rockin' track. One minute she seduces you or make you weep with a straight Honky Tonk – like "the Only One Who Loves Me" or "The Only Fool" (that features a steel guitar and is not far from "Heartaches by the Numbers") and the next she's mean and roars like on Lavern Baker's Bumble Bee.
James sings two solid rockabilly numbers. Blue Blue Heart is a new version of a song he had previously recorded with the Royal Crowns. This song, like Bumble Bee, also features the band's former drummer Glenn Kimberley who sadly passed away last year.
The second song on which he takes the lead is Two Timin' Fool. It starts with a rockabilly beat and mixes it with a Bo Diddley solo in the middle. Just great.
With the help of their producer, the Millwinders worked hard to create different moods. On guitar, Mark goes from straight rockabilly to western twang or switch to baritone guitar for "How Blue". Teddy Fury has the best quality for a Rock'n'roll drummer: you don't hear him, or I'd rather say you don't notice him. Don't misunderstand me, this is really for me the best quality a drummer can have: his style, like DJ Fontana or Ringo Starr to name but two, serves the music and the songs first and not his own glory.
The more you listen to it, you can hear they also pay a special attention to the structure of the album, which is more than just a collection of songs. They even pass what I call the "last song test". Too many bands waste a good album with an average final song. Not them! They kept one of the best songs, which is also the title track, a superb swinging duet between Sarah and James to leave you begging for more.
Fred "Virgil" Turgis