Wildfire Willie and the Ramblers – Blues, Boogie and Rhythm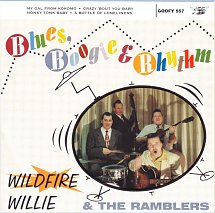 Goofin' records GOOFY 557 [1995]
My Gal From Kokomo – Crazy 'Bout You Baby / Honky Tonk Baby – A Bottle Of Loneliness
The A-side opens with My Gal From Kokomo that opens, initially recorded by Roy Brown. The band turns this jump blues into a frantic Rockabilly tune, during which Jan Svenson seems close to asphyxia.
Things calm down a bit with the next song, Crazy Bout You, an original, a mid-tempo rocka-ballad with a country feel.
Hardrock Gunter's Honky Tonk Baby, the second cover of the EP, is more on the boppin' hillbilly side. The last track, and for me the best, is Bottle of Loneliness. It's a great country Rockabilly song with a Carl Perkins feel. I guess that Sam Phillips would have been proud to record this one.
Fred "Virgil" Turgis