Aces (the) – No One Rides For Free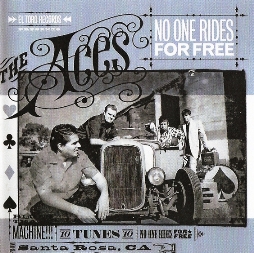 El Toro ETCD 6044
You're Gonna Loose – Stole Something From Me – Shed Some Light On Me – Knee Deep In Mud – Drinkin Song – Need Your Lovin' – Down In The Cave – Mr Highway Man – House On The Hill – Kanka Kanka
If you believe that Eric Clapton is a blues god, well, nice to meet you and see you later. But if you like your blues raw, dirty, primitive, and threatening, the Aces are the band for you. With two guitars, drums, harmonica, and distorted vocals, this California (Santa Rosa) combo plays a lo-fi electric blues with a hypnotic beat that takes its roots in the likes of Hound Dog Taylor and RL Burnside. They add a good dose of garage with a "straight in your face" powerful wall of sound. Imagine if the Cramps had taken their main inspiration in Chicago blues instead of rockabilly. But enough of comparison they build their own sound, keeping things simple and effective, no flashy licks here or 20 minutes solos, but guitar player Derek Irving keeps things varied, playing slide guitar on some tunes and sitar on others, like on "Down On The Cave" with its "Smokestack Lightnin'" inspired riff.
It's music with guts and sweat and, in the end, a truly great album.
Fred "Virgil" Turgis
Share the post "Aces (the)"