Arsen Roulette – The Lost Recordings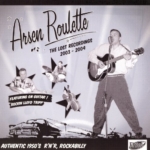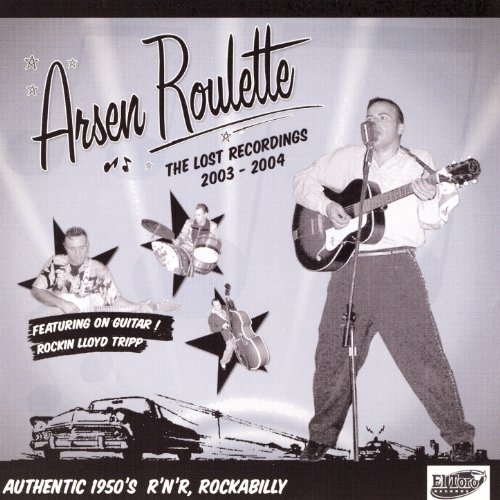 El Toro Records ETCD7000 [2005]
I Get Up – All Through The Nite – She Was My Baby – Boppin' Lil Betty – Gone Crazy – Don't Say Goodbye – At The Drugstore – Hop Up Honey – Tonight Tonight – Baby Likes To Rock And Roll – Jinx On Me (Demo) – 7 Lonely Nites, Days (Demo) – Spinin' Around (Demo) – Lonely Blue Teardrops (Demo) – Gone Gone Gone (Demo)
Arsen Roulette, has just released an album on the Spanish label El Toro that gathers all his pieces recorded during 2003-2004.
This «Lost Recordings» album is hot, very very hot: it is likely to burn your CD player and set your boppin' shoes on fire! Arsen is not the calm kind. This wild double bass player has tailored 15 cuts, alone and with friends. Among these friends, there is thee Rockin' Lloyd Tripp who holds the lead guitar on most cuts. Also, on the titles recorded with the Ricochets, Arsen's preceding band, is Matt Pavlovic. So you can be sure that you're gonna find some «rockabilly weapons of massive destruction». As this is the case; it is definitely not rockabilly for queers or sissies! James Chance, the drummer, beats like a nutcase, the guitar groans, shouts whereas the double bass slaps and snaps. Arsen adores Jerry Lee, and in his work one finds the fever and the urgency of Killer. The first title "I Get Up" starts with the sound of the needle of a record player on an old vinyl with a piano sound à la Jerry Lee.
So after starting gently, the second piece All Through The Nite is gonna wake you up like a hundred cups of coffee bursting directly into your heart and your head! Be prepared because you won't find any rest before At The Drugstore (the seventh cut!) and then back to your frenzy boppin' with Hop Up Honey. The last five are almost all demos (the sound is not that good but the power is still here) except «Lonely Blue Tear Drops (an out take) a catchy rockabilly ballad that just thrills me so mean!
David "Long Tall" Phisel
Arsen Roulette – Let's Get On With It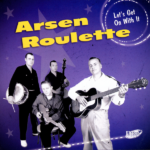 El Toro Records ETCD7001
Let's Get On With It-Chance On Me-Messed Up-I Do For You-Shake It Around-Sounds That Charge-Bop Away Blues-Honky Tonk Alone-On The Prowl-Lovin' On My Mind- Shake Loose-Strolling Back To You
Arsen Roulette's "Lost Recordings" was already a pure dynamite rockabilly fuckin' good album but what about Let's Get On With It? An Atomic bomb would be the suitable expression so much the power of this El Toro Records produced album is huge with his 12 good penned and recorded songs by Arsen and his band on pre-1959 material and instuments.
Before their european tour, Arsen Roulette and the guys went on studio and signed an undeniable rockabilly success that got the fever to heat an ice-cold old maid. The band with some new Drugstore Romeos is made up of some of the best musicians: Mark Millard on drums, Alex Vargas from the Vargas Brothers on bass and last but not the least Matt Pavlovcic, the faithful young guitar wizard.
Be prepared for this rockabilly shock that grab you from the beginning with his eponymous track 'till the very end. No fillers but only pure wild kick-ass mule rockabilly killers!
And don't you ever think that I've been paid by Arsen to say all that good about his album or that I want to thank him for using an extract of my previous review in his sleeve's liner notes to do his first album promotion. If you do think so, The Long Tall will put a voodoo spell on you!!!
So if tonight you got "some lovin on your mind" but your baby says don't "take a chance on me" and left you tellin'that she won't be "strollin' back to you" instead of being all "Messed up"or "on the prowl", ready to "Honky tonk Alone" just remember that Arsen Roulette is a ready to share hepcat that will tell you "I do for you" some "Sounds That Charge" to "Bop Away The Blues" and "Shake it Around" till you "Shake It Loose" so… "Let's get on with him"
David "Long Tall" Phisel