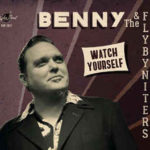 Benny and the Fly-by-niters – Watch Yourself
Rhythm Bomb Records RBR 5837 [2016]
Next Time I'll Listen – Crazy Crazy Baby – Take Off Mama – Bennny's Bop – Can't Get Along – The Blues Is A Feeling – Texas Bound – Watch Yourself – Pork Chops – Drink It Up – Mina's Blues
Australia's Benny Peters returns with a brand new album nearly ten years after the excellent Hey Now!  Whereas Be Good or Be Gone and Hey Now! had been recorded at Fort Horton with an agregation of the finest Austin musicians,Watch Yourself sees benny return to Australia (Ignition Studio in Melbourne) and some of the Fly-by-niters who play on this platter (Attilio Vecchio: double bass; Andrew Lindsay: drums; Dean Hilson and Alex Howroyd: saxes; James Black: piano) were already present on his debut album back in the early 2000's.
If you're looking for fifties sounding Rhythm'n' blues and Jump Blues, look no further, Peters is one of the very best at this game (and by best I mean there are only two or three bands who actually can seriously compete with him). Everything here is near perfect, the sound – you'd swear you listen to late forties/early fifties recordings – the playing, the arrangements, the songs (all originals) and to top it all, Benny's voice. The band is tight and has plenty of room to let the talent of each individuality shine.
In addition to the genres already mentionned, the menu is spiced with some hot Rock'n'roll (the Little Richard influenced Crazy Crazy Baby), blues (the Blues is a feeling) and some Be Bop can be heard on the two instrumentals Benny's Bop and Mina's Blues (penned by saxman Dean Hilson).
Recommended if you like: Pee Wee Crayton, Tiny Grimes, Gatemouth Brown…
---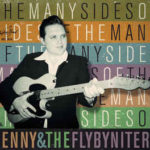 Benny and the Fly-by-niters – the many sides of…
Rhythm Bomb Records RBR 5836 [2016]
Straighten up Mama-  Two Dollar Woman – Wolfman – Wild Cherry – The Way You Do – Jet Propelled Daddy – Benny's Bounce – If You Ever Get Lonesome – Party Like Never Before – You Ain't Puttin' Out Nothin' but the Lights – Be Good or Be Gone – She Knocks me Out – Huckle Boogie – Wonder When You're Coming Home – Hey Now – Tell me Pretty Baby- Let's Rock and Roll – Hammerhead – Loosen Up – RM Blues
Not only Rhythm Bomb had the good idea to release Benny and the Fly-by-Niters's brand new album (Watch Yourself), the label also gathered some of the combo's best sides from their now hard to find previous albums (Jet Propelled Daddy, Be Good or Be Gone, Hey Now) to release a 20 track jump bomb. All killers, no fillers (no wonder if you take a look at the musicians involved, Andrew Lindsay, Matt Farrell, Preston Hubbard, Jonathan Doyle, Murph Motycka, Dean Hinson, Damien Llanes etc.) This compilation is the perfect companion to Benny's most recent album.
Fred "Virgil" Turgis