Bobby Smith – Two Sides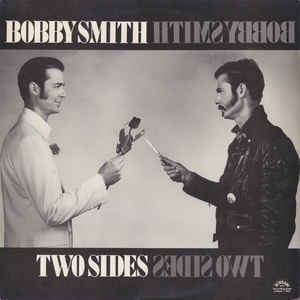 Ripsaw 221 [1987]
What Do I Hafta Do – Tough Girls – Leave My Woman Alone / Both Wheels Left The Ground – I Wanna Be With You – It's Summertime
I don't know much about Bobby Smith. Besides Smith on vocals and lead guitar the core of the band was Johnny Castle on bass, Dave Unger or Mitch Collins on piano, George Oakley on sax, and Jim Lethbridge on drums.
This mini-album features four originals and two covers.
What Do I Hafta Do is a classic but solid rocker with pumping piano. Members of a Gospel choir provide the backing vocals on this one.
Most surprising is Tough Girls that has a strong 60's feel revisited by the 80's with sax and weird guitar part, a bit like John Cafferty.
Leave My Woman Alone is a cover of Ray Charles.
Guitar freaks will jump on his cover of Crazy Cavan's Both Wheels Left The Ground that features a fantastic guitar part by the late Danny Gatton. There's a change of pace with the joyful It's Summertime, and the boppin' I wanna Be With You.