The Dead Beat Jacks – Graveyard Chicks Are Easy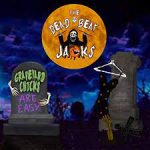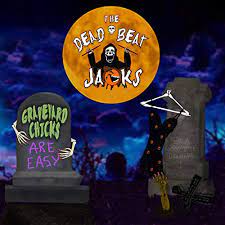 Jax Wax Records [2021]
Psychobilliac – Before I Lose My Mind -Graveyard Chicks Are Easy – Scary Truck – Baddest Cat In Town – Demon O – Drink IPA – Satan's Niece – How I Go – An Undying Quest – Bone Stimulator – It Just Gets Worse – Zombie Bloodbath

Coming from Chicago, The Dead Beat Jacks are a trio (guitar, double bass and drums) and sing songs about graveyards, zombies and demonic things. That would be enough for a lazy reviewer to qualify them as a Psychobilly band. But things are a little bit more complicated than that.
Of course, it contains plenty of songs that belong to the Psychobilly idiom — like Scary Truck or the 'Demented Are Go' influenced Psychobilliac — but they also have more neo-Rockabilly sounding tunes like Drink IPA. Their album also contains, and that's where they develop their true identity, a solid dose of musical oddities like Before I Lose My Mind, which in its structure evokes a 50's ballad in the style of Buddy Holly. Still, once the Dead Beat Jacks treatment is applied, it becomes a weird and totally insane thing. The same goes for Satan's Niece. This one is very close to Heavy Metal in its form but escapes the genre's grandiloquence by a very down to earth treatment.
This is one of the main strengths of these guys. By avoiding all the clichés and the facilities, their songs are often groovy with unusual structures and changes of pace. Hell, they even play a love song!
By not following the rules, the Dead Beat Jacks have developed an infectious and very original brand of music.
More infos here.
Fred "Virgil" Turgis