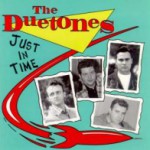 The Duetones – Just In Time
Cherokee [1998]
My Seach – Ela – This Is The Night – Slow Down – She Driver Me Insane –  Shake 'Em Up Rock – Riddin' The Hightway Along – Sweet Sweet Girl – Hipster Baby – I'll Be Damned  – I'll Be Damned  – You Can Do No Wrong – Brand New Cadillac  – Tears Of Happiness – Twang of Mr. Moore
The Duetones were a German quartet formed in 1992. In 1998 they released "Just In Time" their debut album. It's a good and varied album. Half of the songs are classic rockabilly with some slight detour by neo-rockabilly. On this side the singer sounds a bit like Mark Pennington of the Caravans and some songs are not dissimalar to what one can find on the Caravans' No Excuse.The other half is more desperate rock'n'roll oriented with heavier guitar sound, the bass player on lead vocals and a screamin' saxophone for some. The set is made of band's originals and classic covers like This is the Night, Brand New Cadillac, Sweet Sweet Girl and Slow Down.
Fred "Virgil" Turgis
Share the post "Duetones (the)"