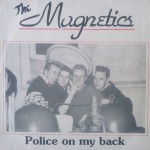 The Magnetics – Police on my Back
[1988]
Police on My Back – Fear of a Girl – Everybody – Milk & Alcohol
The debut ep the Magnetics, a German combo, can be placed somewhere between fast neo-rockabilly and psychobilly, a bit like the "Fight Back" era of the Blue Cats. The songs are very good (Milk and Alcohol let some new wave influences slip into the mix) and they benefit of a very good production with a huge double bass sound.
Fred "Virgil" Turgis
Share the post "The Magnetics"