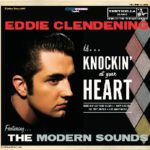 Eddie Clendening is… knocking at your heart.
Ventrella CD-5003
Buttercup – Mean Ol' Frisco – Baby Brother – Hey Little One – Long Tall Lou (from Louisville) – Sugaree – Have a Ball – Knockin' (at your heart) – Comin' Home Baby – Blues Stop Knockin' At My Door – Manifesto Of Love – Respectfully Miss Brooks – Hot Shot – Make Me Know You're Mine – Six Feet Under – It'll Be Me- My Baby's Gone Away
I'm not very good at maths but I can solve a simple equation. For example take one of the best band on the scene (let's say The Modern Sounds), put them in Jimmy Sutton's studio with one of the most talented young singer (Eddie Clendening) and the result is, that's no surprise, one hell of a killer album.
17 hot tracks that range from rockabilly to rock'n'roll with bits of rhythm'n'blues, country music and even a brilliant sixties soul number. And this voice! Oh boy, this guy can rock and when he croons he's sure going to break hearts all over the globe (just listen to Hey Little One if you don't believe me). There must be a reason why he's been chosen to play Elvis in Broadway's Million Dollar Quartet. Musically, Joel Paterson's guitar shines troughout (as usual), he can rock it up, blues it up, jazz it up and sometimes he does the three in the same time. Alex Hall and Beau Samble confirm they're one of the best rhythm section in activity.
If you still need to be convinced, let me tell you that High Noon's Shaun Young wrote the laudatory liner notes. Talent knows talent.
As usual with Ventrella it comes in a beautifully designed digipack
Fred "Virgil" Turgis
Share the post "Eddie Clendening"