Hexxers (the) – Freaks With The Savage Beat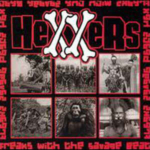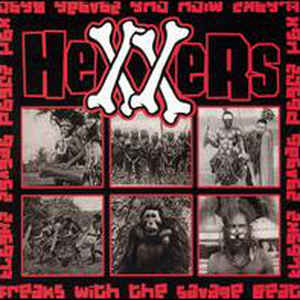 Golly Gee Records GGR 1039
Straight Home – I Can Beat Your Drum – Strangled – Bones By My Bedside – No One Knows Where My Wild Seeds Are Sown -Tell Me Pretty Baby – You Put Me On – Sidewinder Crawl – I Take What I Want – Like What, Me Worry? – Let's Dance – Knockin' On Gravestones – Bones By My Bedside (Mad Maraca Mix)
Caution! Wild stuff here! If you think the baritone guitar on Johnny Horton records is your limit in terms of modernity, this record is not for you. But if you're looking for a good sixties garage punk with a healthy dose of Bo Diddley and rockabilly music, don't go any further, you found what you need! Who are The Hexxers? No less than (Rockin') Ryan Sagat on vocals and his partner in crime the multi-talented Rip Carson (guitar, bass, drums). The opening song, Beau Dentures's "Straight Home" with its powerful riffs is the kind of song Wild Billy Childish could have played. "I Can Beat Your Drums" seems directly taken from a "Songs The Cramps Taught Us" compilation, imagine something reminiscent of The Sparkles. "Strangled" proves they're not only good at playing this music, but they can write it too. Ryan's vocal sounds like a possessed Screamin' Lord Sutch on this one. "No One Knows…" is probably one of my best-loved ones with tons of fuzz (I love fuzz). In the middle of the album, there are two more rockabilly influenced songs, then back to wildness with «Sidewinder Crawl» "I Take What I Want" is another favorite of mine, featuring label owner Mel on percussions and both Ryan and Rip on vocals. Throughout this album, Ryan proves his vocal has nothing to envy of Gerry Roslie.
In 2019, Trash Wax records reissued it on vinyl (100 copies on red and 400 on black) with a different and wilder mix and extra tracks.
http:// https://www.trashwax.com/product/out-now-lp-hexxers-freaks-with-the-savage-beat-ltd-edition
Hexxers (the) – Buried Alive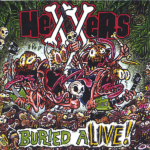 Golly Gee Records – GGR 1047
Magnify (Marlin Bar) – I Need Help (Marlin Bar) – Bones By My Bedside (Marlin Bar) – Superstuff (Marlin Bar) – Castin' My Spell (Marlin Bar) – Sidewinder Crawl (Marlin Bar) – Like What, Me Worry? (Marlin Bar) – Buried Alive (Marlin Bar) – I'm Your Evil Witchman (Fright Night) – I Need Help (Fright Night) – Bones By My Bedside (Fright Night) – Let's Dance (Fright Night) – Like What, Me Worry? (Fright Night) – Go Go Gorilla (Fright Night) – Sidewinder Crawl (Fright Night) – Buried Alive (Fright Night) – Strangled (Fright Night) – Knockin' On Gravestones (Fright Night) – Castin' My Spell (Fright Night)
You all know The Hexxers, if not read the previous review. If you do, I have good news for you: The Hexxers are back with their brand of garage and trash stuff mix with a rockabilly attitude and a bit of surf. And this time it's the perfect support to judge of their wilderness: a live album. This record comes from two different shows (19 songs) recorded in April and June 2005. But don't worry, except for their soon-to-be-if-not-already classics ("Like What, Me Worry ?" "Sidewinder Crawl") and some covers you don't have many songs played twice. The first eight songs, recorded at The Marlin Bar, feature a fifth member with the presence of Don Sagat on Farfisa. He adds subtle effects, and one could only hope he'll be on their next studio album. The sound is rather good on the whole album but not too clean (this is a real live), and you can hear the audience (and the interference between Ryan and the audience). The remaining 11 were recorded one month later. I do prefer this show because Ryan Sagat – or should I say Dambala – seems crazier than ever. Even if they don't play the same music, you can compare them to The Cramps by their roots, the abandon in the vocal and their primitive (and pure) approach of Rock'n'roll. And like Lux and Ivy's band, they also cover The Sparkles' "Hipsville 29BC" (renamed here "I need Help"). Good live albums are hard to find, so grab yourself a copy and don't forget: if it's too loud, you're too old!
This cd comes with a beautiful comic book, drawn in a Hunt Emerson style by the team at Haunted Highway, telling us the REAL story of the Hexxers.
Fred "Virgil" Turgis
Share the post "Hexxers (the)"