Hot Rhythm and Booze – We Gotta Get With It !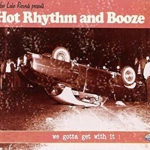 Blue lake Records BLR-CD 08
She's A Bad Motorcycle – Thinkin' Bout You – Suzanne – Phantom Of Bengale – If I Had Me A Woman – Bull Moose – Johnny Be Goode In Hollywood – Ready Steady Go – Sweet Honey – We Got To Go With It – Ready At 8 – Lemon Lime – Fancy Annie – I Hear Thunder – Heartbreak Hotel – Baby Be Good
One night, one of the wildest rock'n'roll party took place in a small flat. The Mad Daddy came and started to play his favorite records. Bottles of booze were brought. Somewhere in a dark corner, near the kitchen, you could see Link Wray showing Chuck Berry guitar chords he didn't know and both were having more fun they ever had before. It was time to order more bottles. Eddie Cochran came, just before catching a plane that would fly him to England. He loved what he heard, plugged his guitar and, with a little distortion, started to play a wild and frantic instrumental. More bottles were opened and emptied the following minutes. Hey, who's that knocking? It's Nat County and Buddy Love (and some booze too). The next instant a mad cover of Elvis' Heartbreak Hotel was played. Ten more bottles took their journey to the bottle's heaven. RIP. From the window, you could see a young Lux Interior peeping the party. He probably learned a thing or two that night. John Lee Hooker shouted for more alcohol; Jimmy nLloys gave him one drink, but in exchange asked him how to play that Boom Boom riff. When the dawn came, everyone went back home to cure his hangover. Sadly, it was long after the wild party was over that someone realized no one recorded it (probably too much booze involved.)
But don't despair! Nearly five decades later, four guys from Paris, France managed to capture the essence of that specific night on a platter that is hotter than lava. And now, you dear reader, for a ridiculous amount of money ( booze not included) you can recreate it over and over again.


Fred "Virgil" Turgis