Hot Rod Gang – Silver Wedding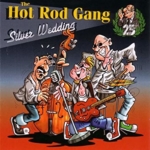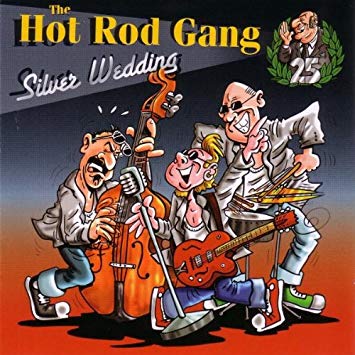 PART CD 633.003 [2010]
Silver Wedding Anniversary Song ~ Kingx Of Jesterz ~ Sexbomb ~ Beauty Queen ~ Heatwave ~ I Curse The Day ~ Rawhide ~ Mercury Blues ~ Get Rhythm ~ Little Less Conversation ~ On The Road Again ~ Honey Hush ~ 10 – 11 – 12

A wise man called Bo Diddley once said: "you can't judge a book by looking at the cover", that's exactly what I thought when I listened to the latest output by this German rockabilly trio.
They celebrate their 25th birthday, so you can expect experience. The album is mostly good (very good I'd even say) but I find them more at ease on their own songs than on the covers. They either suffer from a lack of originality (Get Rhythm) or too much originality. I mean it's good to cover unusual tunes and many rockabilly bands have done that, but all songs are not good to cover (Sexbomb). That said their cover of Canned Heat's On the Road Again is perfect. And when you listen to the originals you're rewarded by a strong dose of neo-rockabilly.
Anyway, happy anniversary to the band and hope to hear you soon with more original material.
Fred "Virgil" Turgis