Jinx Jones – Rumble & Twang
JJ06CD
Flat Getting' It – Either Way I Lose – I'm Coming Home – Swedish Pastry – Border of Right and Wrong – The Messiah Will Come Again – Baja – Mr Right Now – Double Talk Baby – Street Shark – Penetration – Flat Getting' It 2 – Cherry Pink & Apple Blossom White
It looks like I'm the last one here to discover Jinx Jones talent, and I still wonder why I haven't noticed him earlier. This guy oozes talent and musical intelligence from every inch of his skin and has the honest and versatile approach I like so much. This album features a couple of solid instrumentals. The opening number is a strong slice of neo-rockabilly (the kind of thing Brian Setzer could have written in his better days). A steel guitar guests on Barney Kessel's jazz standard "Swedish Pastry" which gives a Speedy West and Jimmie Bryant flavour. He also covers The Messiah Is Gone from Roy Buchanan's first album, an artist he backed in the 80's describing the experience as "the most eye-opening and life changing". In fact Jones explores the whole spectrum of American music with two surf instrumental (Baja and Penetration) with tons of reverb and makes incursions into Jump and Jive territories with sax (Street Shark"), country boogie (Flat Gettin' It Part 2) with brilliant acoustic guitar work and as a bonus Jones has included a bossa nova coming from the catalog of Perez Prado.
If his main thing is the guitar, he certainly doesn't have to be ashamed by his vocal tunes. These are powerful rockabillies like "Either Way I Loose" a Mystery Train type of song with drums shuffle. He also delivers a muscled version of Johnny Horton's I'm Coming Home with piano.
If you like versatility, rockin' guitar (under all its forms) or just good music grab a copy of this one.
---

Jinx Jones – Live Twang In Finland
Home Braend
Double Talk Baby – You Can't Kill Me Cause I'm Already Dead – Honey Hush – Penetration – Mr Right Now – I Need A Good Girl Bad – Tear It Up – Honky Tonk Playgirl – Jack The Ripper – Either Way I Lose – Rock Billy Boogie – The Messiah Will Come Again
As its title indicates, this album has been recorded live in Finland with Los Fabulitos (Henry Valanne on drums and Ari Sjoblom on bass) and is released on a Finish label too. It's a good mix between instrumentals and songs, straight rockabilly, more neo stuff, surf and blues. Jones wrote or co-wrote four tunes completed by good covers (with no less than three from the Johnny Burnette catalog). Though being a honest singer, as prove his wild rendition of Honey Hush or Mr Right Now, Jones' real talent lays in his guitar (and most of all in his hands).From the surf classic "Penetration" to Link Wray's "Jack The Ripper" and Jones' tour de force on "The Messiah Will Come Again" (Roy Buchanan), it's a cascade of notes and sounds. The rhythm section makes a solid anchor for his somewhat exhuberant style but Jones lets them room to express themselves and you'll find a couple of slap bass and drums solos. The whole thing is very energetic and makes you feel they've all been recorded during an encore, if you see what I mean.
---

Jinx Jones – Rip & Run
Home Braend [2010]
On Parole And Out Of Control – Never Live It Down – Doghouse – How High The Moon – Time To Have A Good Time 1 – Rip and Run – Hot Rod Heartbreaker – No Beer In Heaven – Vibro Exotica – Redneck Barbie – What Makes You Think I'm Lonesome – Prairie Dig Daddy – Time To Have A Good Time 2 – Roma's Song.
"Rip And Run" is the latest (and best) album from California's guitar ace Jinx Jones recorded with Joe Kyle on bass, Jimmy Sage (Lee Rocker band) on drums, Caroline Dahl on piano and David Phillips on steel. It's a solid offering mixing different style of rocking music with elements of blues and country (isn't the definition of Rock'n'roll?). It's led from start to finish by Jones'guitar and his 30 fingers (that's the only way I can explain his dexterity). He mostly plays on Telecaster and Grestch, and maybe a Jazzmaster which is a proof of good taste. It kicks off with "On Parole And Out Of Control" that has a strong Reverend Horton Heat feel in it (think "Big Red Rocket Of Love"). It's also a great showcase of Jones guitar play. The swingin' "Never Live It Down" slows down the pace, I just regret that the piano doesn't take a chorus on this one. "Doghouse" is a fine cowboy ballad with a solid Bakersfield styled guitar solo. If you still doubt of Jones' virtuosity, "How High The Moon" is here to reminds you that this guy plays in the same league than Brian Setzer or Danny Gatton. "Time To Have A Good Time" is a fine neo-rockabilly tune separated in two parts (roughly one for the lyrics and the other one for the solos, like Creedence's Suzy-Q), it also could have been the title of the album. It's instrumental time again with "Rip & Run" that sounds like a cross between Ennio Morricone and the Ventures. "Hot Rod Heartbreaker" is a solid rocker with a Chuck Berry flair. Back to country music with "No Beer In Heaven" (what a title!) a sped up hillbilly number. Starting like Sleepwalk, "Vibro Exotica" is an instrumental that slips toward blues in the middle. The mistake would be to reduce Jinx Jones to a guitar player. He is quite a good singer and he can write pretty good songs too (he wrote all the numbers of this album but two) with witty lyrics like "Redneck Barbie" an excellent modern rockabilly. I really enjoyed the Honky Tonk sound of "What Makes You Think I'm So Lonesome". The steel and the guitar duet on "Prairie Dog Daddy", a jumpin' instrumental, halfway between Little Charlie Baty and Leon Rhodes and Buddy Emmons. "Roma's song" closes the album with another slice of solid guitar that shows the influence of Roy Buchanan.
If you're a guitar geek, a fan of the Reverend Horton Heat, Brian Setzer and Danny Gatton, or if you simply like good music (with plenty of guitar), do yourself a favor and grab a copy of this one.
Available here.
---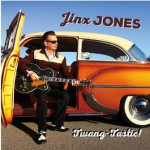 Jinx Jones – Twang-Tastic!
Vibro Sound Records [2015]
A new album by Jinx Jones is always the guarantee of solid musicianship – not only because he's a guitar ace, I guess we all agree with that, but the musicians that play with him are also top notch – very good songwriting and a wide array of styles. Twang-Tastic! makes no exception to the rule.
Metalflake Sky opens the set. This powerful instrumental mixes shredding with surf guitar for great effect. What I like with Jones is the fact that his instros are always well constructed, with a progression and a structure, and are not just a bunch of riffs tied together to show his skills.
Nothing Left to Burn is modern rockabilly at its best, with doo-wop backing vocals and saxes.
Ruin My Bad Reputation is one of the top tracks of the album. I easily imagine Jim Heath (the Reverend Horton Heat) thinking "Why didn't I write it?". Powerful, melodic, and perfectly sung. If on the previous albums Jones sounded more like a guitar player who sings, he shows equal skills now. Play loud!
Wham-Bam Boogie is not the most original track of the album but it delivers a solid jump blues with a swingin' beat which is always nice.
Benny Goodman's Flying Home is the first of the two covers of Twang-Tastic! and another tour de force for the man who mixes rockabilly guitar with be-bop. Hey Mr Setzer how about a duet with that guy?
If Midnight Train reminds of Johnny Burnette this is not because it's a cover of the song of the same name  but this fast neo-rockabilly has the same power as Honey Hush or Train kept-A-Rollin.
It's country and western time (with a bit of swing) with Better Off Gone that features two solid steel guitar solos played by David Phillips.
The spirit of Eddie Cochran floats over Beat Crazy Baby a simple but effective Rock'n'roll.
If the producers of James Bond were smart, they'd ask Jinx Jones to write the title theme for their next movie. Love Don't Live Here No More has that exact 60's feel with a touch of blues in the solo.
Jinx Guitar Boogie is another instrumental. Imagine Carl Perkins in the early 60's to give you an idea of the sound (what's more he quotes Carl Perkins' Say When for my great pleasure).
Both High and Dry and Too Many Chicks are hot rockabilly and the set ends with the cover of the Theme from Thunderball.
Highly recommended.