Junior Marvel – Messin' Around With…
El Toro Records – ETCD 4090
Mess Around – Love My Baby – I'm Coming Home – Please Don't Leave Me – All The Time -You Got A Heart Like A Rock – That's The Stuff You Gotta Watch – This Is The Night – Marijuana Boogie – Cruisin' – Right Now – Tiger Man – Blue Moon
Now going under the sole name of Junior Marvel the artist also known on his ID card as Frank Marques delivers a fine blend of Elvis influenced Rockabilly and Rock'n'Roll.
"Mess Around" sounds like an unissued take of the King circa 1956. Love My Baby owes more to Hayden Thompson than Junior parker and has a nod to "Mystery Train" with Junior yelling "All Aboard !". The arrangement on Fats Domino's Please Don't Leave Me is quite close to the Johnny Burnette Trio's alternate take with the growls but they add their own touch with one verse sung in Spanish and original guitar work. "All The Time" is probably one of my fave (if you're interested to know), a true rockabilly tune which equals the best of Rip Carson and guitarist Roger Corneille adding some tasty Chuck Berry licks. "The Stuff You Gotta Watch" slows the pace a bit with a fine jazzy arrangement. Entirely sung in Spanish, Marijuana Boogie makes you regret he doesn't do more in that style. As he doesn't write much original stuff it could had more personality on some songs (This Is The Night). Cruisin' sounds like a tribute to both Gene Vincent and Danny Gatton (remember his version with Robert Gordon on The Humbler?). Written by Marvel/Marquez the wild "Right Now" sounds like it could have been written 50 years ago. Classic stuff with good slap bass solo. The album ends with two songs associated to Elvis. "Tigerman" is played in a "Blue Moon Boys" formation which is unusual and good and "Blue Moon" ends the whole thing in beauty with just Frank and his guitar and the second verse sung in Spanish.
Maybe I'd have enjoyed more original material but there's no reason to be a killjoy this is a more than enjoyable album.
---
Junior Marvel and his Hi-Flyers – Lies, Lies, Lies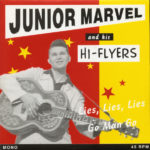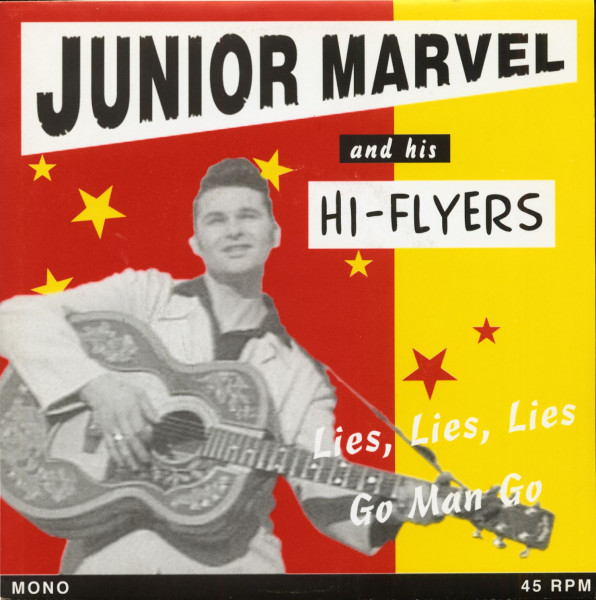 MAC 138
Lies, Lies, Lies / Go Man Go
Previously known as the singer of the Bellhops, Frank Marquez carried on as Junior Marvel and His Flyer. The Hi-Flyers were Nils Becker on lead guitar, Maiko Firefeet on drums, Mr Mactenfield on double bass and JJ Slyk on rhythm guitar. There's no date on the cover, but I think that it came out around 1996.
Side A is on the rural / Sun records side of the Rockabilly with excellent guitar work behind Junior Marvel's superb and period-perfect voice, tremolos, and hiccups. The flip, penned by Slyk, is more vigorous, and one can hear the influence of Gene Vincent.
Fred "Virgil" Turgis