Lil' Bit & The Customatics – Whiskey Nights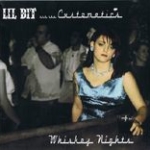 Tomcattin' Around [2005]
Whiskey Nights – Little Bit More – No More – Red Hen Hop – Old Hot Rod – Been Gone So Long – Train, Train – One Too Many – Free & Fairly Sober – Mr. Crazy Legs – Country Boy Rock n' Roll – Stampede – The Best Thing
Third album from this Texas quartet. Jen aka Lil' Bit has one of the best voice on the rockabilly scene both powerful and clear in the same time. She's also a remarkable songwriter. Her songs make you rock ("Little Bit More" or the agressive "Mr Crazy Legs" that could have been recorded by Wanda jackson) or cry like "Free & Fairly Sober" (as good as any Wayne Hancock song) or "The Best Thing".
The Customatics give her the best support one can dream for this type of band. The way Tomcat Miller gives the beat and the swing with his bass gains him a place near Kevin Smith or Ric Ramirez in the great bass players'pantheon. And he can sing and write songs too ! "No More" has a strong "south of the border" feel with nice steel and flamenco guitar breaks. "Train Train" is a funny "spoken song" with guest Dennis Fallon from Two Tons of Steel on baritone.
Miller also wrote "Old Hot rod", a rocking song Lil' Bit delivers with aggressivity, surely one of her best moment. Let's not forget Brian Duarte whose talent shines throughout this album and culminates on his own "Stampede". This instrumental is a real "tour de force" and would delight every fan of pickin mixed with a good dose of rock'n'roll.
A few covers complete this cd. I really enjoyed "One Too Many" (also covered by The Horton Brothers on their latest release) with Jen and Tomcat singing harmonies together and Reno & Smiley's "Country Boy Rock'n'Roll".
Fred "Virgil" Turgis