Lil' Red and the Doghouse Trio – Dirty Word
Red Wolf Records 1001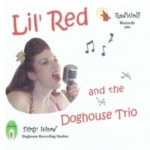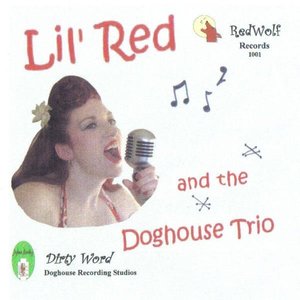 Dirty Word – Let's Elope Baby – I've Had My Fill – Gonna Be Loved – Stop Look & Listen – My Little Baby – Black Snake Boots – Ain't Gonna Stand For This No More – No Good Lover – Surly & Grouchy – Gotta Lotta Rhythm In My Soul – Guitar Picker – Stop Whistling Wolf – Finger Prints
Lil' Red/Diane Urquhart is a new name on the scene, but her musicians surely are not. You may know Rusti Steel (guitar/steel guitar) and Stuart Dale (doghouse bass) from Rusti Steel and the Tin Tax. And that's a reference solid enough for me. Lil' Red plays a clean type of rockabilly, with a huge influence from Janis Martin and a bit of hillbilly, and even if her voice lacks of insurance every so often, the global result is pretty pleasant partly due to the strong musicianship of the band. She proves her dedication to this music by writing six of the fourteen songs of this album, including the best cut here, the threatening "Black Snake Boots" a rocker with sax and a bit of "Bertha Lou" feel in it. The rest comes from the catalogs of Janis Martin, Patsy Cline, Rose Maddox, Mickey and Sylvia (Rusti gsings duet on "No Good Lover").
Fred "Virgil" Turgis
Share the post "Lil Red and the Doghouse Trio"