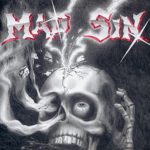 Mad Sin – Break the Rules
Maybe Crazy Records MYCD009 [1992]
Intro – Deep Black zone – Where Will It Go (Dub version) – No More – Fight Back – Sick World – All Hell Breaks Loose – Run To Live – Dirty Lies – Killer – No Mercy – Born Bad – She's The One – Time Warp – Steal Machine – Where Will It Go
With Break the Rules, Mad Sin return to Maybe Crazy but instead of returning to the sound of their first albums, they pursue in the way that was announced by Amphigory. A full drummer had been added to the trio and Koefte can now fully concentrates on the vocals. the sound is heavier, punkier (they cover the Ramones She's the One) and they regularly flirt with bad taste, especially on Dirty Lies, a slow that even Scorpions wouldn't want on their most obscure b-side.
---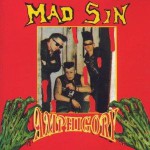 Mad Sin – Amphigory
Fury F 3019 [1991]
Intro ~ Amphigory ~ Eat Yourself ~ Body Snatchers ~ Alien Bug ~ Buried Alive ~ Vampire Slut ~ 1999 ~ Paranoid Brains ~ Your Death Is My Delight ~ Tornado ~ You Better Run ~ Rockin' Bones ~ Human Fly ~ You Better Run #2 ~ Mind Blow
Third album and last one featuring the original trio with Koefte on drums. They still play their own brand of fast psychobilly, but with a heavier and punkier sound than their first two releases. It could have worked well if the production hadn't buried everything. One can barely distinguish the instruments from the voice. Too bad, cause some songs like Amphigory or Your Death Is My Delight are as good as anything you can find on Distorded Dimensions. The cd reissue contains bonus tracks that were not on the original vinyl release.
The Radioactive Kid
---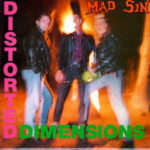 Mad Sin – Distorted Dimensions
Maybe Crazy Records MYCD006 [1990]
Wicked Witch – Indestructible man – The Walltown – It Bites – Petrol Lunatic – Hammer beatin' Boogie – No escape – Moonlight shadows – Watch out – Mad Man rock – Chainsaw cannibals – Fashion train
More or less the same sound than their debut album but a little less percussive due to the songs. If there's good tunes like Wicked Witch or Moonlight Shadows, none are as good as Straight to Hell, Planet Paradise or Brainstorm. Anyway it remains a good album that can buy with confidence.
---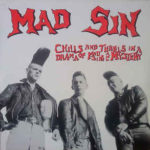 Mad Sin – Chills and Thrills in a Drama of Mad Sin and Mystery
Maybe Crazy Records MYCD004 [1988]
Acid Train – Brainstorm – Buddy's Riot – Straight to Hell – Planet Paradise – Mad Rumble – 2,3,4 – Shake the thing – Day of the Merge Souls – Gonna get her – Sell your soul – Whirl girl – Blind spot* (*cd only)
Essential debut album from this German trio (the singer sings and plays drums). They kept the rockabilly and early psychobilly influences (from the Sharks, the Deltas and the early Meteors) but bring something new to the mix with Koefte's crazy and manic voice and original songs. This album is definitely one to have in any decent psychobilly collection.