Mental Shakedown – Inside Out
Bob'n'Destroy Records [2021]
Inside Out – Put The Blame On Me – Too Hot For Jesus – Last Man On Earth – Scorched Earth Policy – I Hate The Night – The One – Little Red Riding Hood – Primeval – Somewhere Bound – Box Of Memories – Time Will tell – Outa There – Crime Against Humanity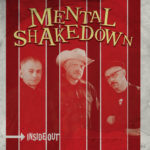 Inside Out is the second output from this German trio. It's not easy to say if Mental Shakedown is a Neo-Rockabilly that sometimes goes wild or if they are a Psychobilly band with a soft edge. I don't care: they play great music. I suppose that if you like the Sharks, the Rattlers, Dave Phillips and the Ricochets and so on, you'll — like me — enjoy this album from start to finish.
Twelve songs out of fourteen are originals penned by Axel Gieseking, their singer and guitar player. The other two are Sam The Sham's Lil Red Riding Hood (also covered by the Meteors and the Rattlers) and the King's Put the Blame On Me.
Also, the band benefits from a solid and mighty powerful rhythm section, a clean guitar and a very melodic singer (often helped by backing vocals.) But, I'd say that their strength lies in the fact that they don't restrain to the Rockabilly idiom, albeit played in a wild manner. They are clever enough to add garage elements. It's evident with I Hate The Night, a straight Garage song, but one can also hear a tribal beat at the beginning of Scorched Earth Policy, some fuzz on Outta There, and a tad of Cramps influences on Last Man On Earth. On the other side of the musical spectrum, there's a bit of country music in Box Of Memories.
All in all, it's a very powerful and enjoyable album.
Mental Shakedown on bandcamp.
Fred "Virgil" Turgis