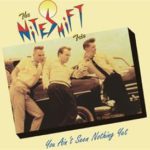 The Niteshift Trio – You ain't seen nothing yet
Fury / Raucous RAUC 237
You Ain't Seen Nothin' Yet – One More Day – Leave 'Em Cold – Venus – See My Body – Super Jet Rumble – Rockin' In The Graveyard – Cadillac Ranch – Train Don't Stop Here – Don't Let It Fade Away – Slide – Taken By Force / Life Could Be Easy – Don't Need Nobody – Taken By Force – What D'Ya See Now.
After numerous apparitions on compilation albums (one of their track even gave its name to "Taken By Force"), the Niteshift Trio finally made it on long distance.
"You AIn't Seen Nothing Yet" is a typical 80's neo-rockabilly album. The ingredients are all here (light guitar and snare, slap bass to the fore) and the result is rather pleasant. They have good originals and like many rockabilly bands of this era they also cover rather unusual material like Venus (made famous by Bananarama) and Bruce Springsteen's Cadillac Ranch. This cover is the only weak point of this platter, using and abusing of a repetitive riff, but to their discharge this boring riff was also present on the Boss' version.
The original album is rounded by bonus material coming from the aforementionned compilations
This is a must have album for any true neo-rockabilly fans and a good reissue from Raucous.
© Fred "Virgil" Turgis
Share the post "Niteshift Trio (the)"