The origin of the Niteshift trio can be traced when Gary Venn started to learn double bass in the early 1980s. His teacher was Boz Boorer from the legendary Polecats (and now Morrissey's main man). He soon teamed up with a school friend called Steve Lovett on guitar and they started to practice in his mum and dads garage. It all seemed to fall into place and they quickly found their own sound. Their drummer at that time was a guy called Carl.
Things went well and the trio played lots of gigs at various rockin' clubs around the country.They gained a good reputation and one evening after a gig they met Dell Richardson from Fury records who asked them to do some recordings for him on a couple of compilation albums (Gipsy Girl, I Love My Car, She's Just Rockin', Taken By Force).
Then Carl left to emigrate to California. By chance they knew Keith Bailey a fan of the band who also played drums. He was proposed the place. This line-up recorded their unique album "You Ain't Seen Nothing Yet" still for Fury. Using the lp as a card the Niteshift Trio gained more gigs abroad, including Germany which they toured twice with the Guana Bats, Demented Are Go the Deltas and various other top name and is remembered as a fantastic experience.
Unfortunately Steve decided to quit the band to become a solo country and western singer, which he still does now. Gary went on to form a new band called Loveless, a wild rock n roll band doing various rock n roll with a trashy sound, for which he switched from double bass to guitar and vocals enjoying playing and writing songs. Loveless toured Germany and went down a storm and it remains like a great experience for Gary.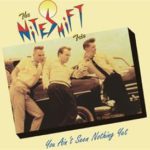 The Niteshift Trio – You ain't seen nothing yet
Fury / Raucous RAUC 237
You Ain't Seen Nothin' Yet – One More Day – Leave 'Em Cold – Venus – See My Body – Super Jet Rumble – Rockin' In The Graveyard – Cadillac Ranch – Train Don't Stop Here – Don't Let It Fade Away – Slide – Taken By Force / Life Could Be Easy – Don't Need Nobody – Taken By Force – What D'Ya See Now.
After numerous apparitions on compilation albums (one of their track even gave its name to "Taken By Force"), the Niteshift Trio finally made it on long distance.
"You AIn't Seen Nothing Yet" is a typical 80's neo-rockabilly album. The ingredients are all here (light guitar and snare, slap bass to the fore) and the result is rather pleasant. They have good originals and like many rockabilly bands of this era they also cover rather unusual material like Venus (made famous by Bananarama) and Bruce Springsteen's Cadillac Ranch. This cover is the only weak point of this platter, using and abusing of a repetitive riff, but to their discharge this boring riff was also present on the Boss' version.
The original album is rounded by bonus material coming from the aforementionned compilations
This is a must have album for any true neo-rockabilly fans and a good reissue from Raucous.
© Fred "Virgil" Turgis