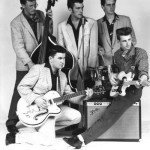 A British rockabilly quartet formed by Stuart Warburton (vocals, rhythm guitar, tenor saxophone, harmonica), Paul Murphy (lead guitar/steel guitar), Phil Morris (double bass) aznd Gary Leach (drums) in the early 80's. They had two tracks (House Of The Rising Sun and You're Not Going Out Dressed Like That) scheduled for release by Hot Rock Records but were dropped at last minute though some test pressings exist.
They changed their name for the Rhythmaires when Big Dave Machin joined the band in late 1982 then split before reforming in late 1983/early 84 with a more jump/jive sound.
Paul Murphy later joined the Crawdads.
The album The Rhythmaires – Tenth Anniversary Album (Raucous RAUCD006) features 10 demo tracks by White Lightnin'.