Out of Luck – Killer Coupe
Part Records Part-c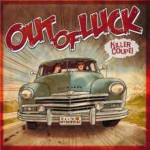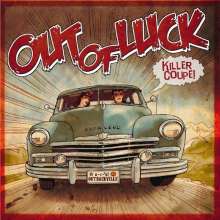 d-6100.002 [2014]
The Change Of  the Plymouth – Killer Coupe – I Pack My Bags – Gangster – I'm So Lonely – My Baby Is A Centerfold – Heart Of A Fool – Your Best Buddy – My buckets got a Hole In It – I go For A Walk With My dog – Drop Dead – Demons In the Tank – Kickin' Up A Row
Out of Luck returns with a brand new kick ass album featuring eleven originals and two covers (Heart of Fool and My Bucket's Got A Hole In It). Led by the strong voice and the powerful slap bass of Karl Rascal with Rocky on guitar and Beppo May on drums, they perfectly mix their varied influences with classic Rockabilly, neo-rockabilly (one can hear shades of Brian Setzer in the guitar of I'm So Lonely), old school psychobilly kinda like the early Nekromantix or even the Scum Rats with, which is more unusual for this type of band, a heavy dose of country music which makes them sound at places like European cousins of the Reverend Horton Heat. A very good album.
---
Out of Luck – Greetings From Outbackville
Part Records Part-CD 6100.001 [2012]
Greetings From Outbackville – 49′ Plymouth – Ain't Got No Job – Rockabilly Rocker – Black Kat – Midnight Drive – Johnny Ultracool – Out Of Cash – Josephine – Into The Valley – I Wanna Kill – Psycho Fantasies – Sunrise At The Foggy River – Cruisin' – Rainy Day – Love Is An Expensive Affair – Several Ways To Die
Out of Luck is a terribly good and powerful trio who plays revved-up rockabilly that often borders on old-school psychobilly. This album is a subtle balance between the early recordings of the Meteors, Guana Batz and even Mad Sin and more traditional rockabilly stuff with some Reverend Horton Heat in between. The original songs (all but one) are very well written. The sound is also particularly good with a very natural and warm recording of the double bass (not that horrible sewing machine sound one can too often hear in that style of music). As a bonus they included six live tracks to convince you to see them on stage. It's good to see bands like Batmobile or Skitzo (to name but two) reform, but this music needs new blood, and with band like Out Of Luck the future seems assured.
Fred "Virgil" Turgis