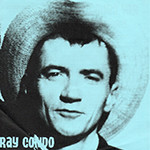 Ray Condo – Sweet Love On My Mind bw/ Big Dog, Little Dog
Ray Condo Records CP007
This is a posthumous single gathered by Ray's friend. Side one is the classic Johnny Burnette tune given the Hardrock Goners treatment, something like «wild rockabilly meets Hank Williams». B-side «Big Dog, Little Dog» is a song recorded during a rehearsal by Ray and his last musical project, featuring Stephen Nikleva (The Ricochets), Ian Tiles and Tony LaBorie, just a few months before his death. I may be wrong but the only other issued song from this line-up can be found on a tribute album to Alejandro Escovedo. A great piece of wildness (imagine Dee Dee Ramone goes hillbilly).
Fred "Virgil" Turgis