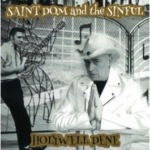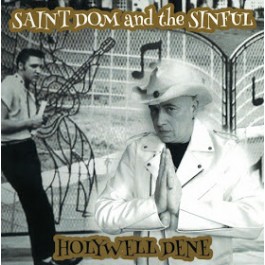 Saint Dom and the Sinful – Holywell Dene
Get Up & Get Out – Motorbike Rider – Mr Saint – Ghost Town – Holywell Dene – Cause i Do – Cat Feet – Jenny Won't Play No More – Phantom Lady – Slaphouse – One Foot In the Grave – Mohawk
Better late than never as they say. It's never been so true. First I should have written this review a long time ago. Then because Saint Dom took 30 years to release this album.
The band originally formed in 1983, featuring Simon Badminton who later formed Spook and the Ghouls, and disbanded in 1987 their only recording legacy being some demos.
In 2011 they reformed with Peter Turner (Sureshots, Johnny and the Roccos) on double bass and Mark Coppin (Sureshots, Sugarpuff Demons) on drums. In early 2016 they finally started to work on an album and two years later Holywell Dene was born.
And let me tell you, that was worth the wait! This is one of the very best neo-rockabilly album I've ever heard. Not "the best of 2017" or "one the best of the decade", no I repeat: one of the best I've ever heard! It can stand proudly near anything released by Restless, the Sharks or the Blue Cats.
All twelve songs are penned by Dom Malia (aka Saint Dom) who's not happy to be a mighty fine songwriter and one hell of a singer is also an ace guitar player (listen to Cat Feet their instrumental.)
The album kicks off with Get up and Get Out. Man! If I had to explain what is modern Rockabilly to someone who doesn't have a clue, I'd surely use this song and the Blue Cats'Man with a mission.
After such a strong opener you have to be good. And Saint Dom and the sinful are! The songs follow one after another always bringing something new. Some are very close to Psychobilly like Mr Saint or One Foot in the Grave. Others are more traditionnal like Cause I Do (with a riff similar to the Moonlighters' Broken Heart) or the title track with its powerful slap bass. It must be noted that the slap bass is particularly well recorded; You can hear both the slap and the bass and the sound is warm.
A bit of glam can be heard on Ghost Town (maybe it's the intro that makes me say that) and some boogie blues on Jenny Won't Play No More with guest harmonica player Scotswood Slim. Talking about guest, Steve Clark of the Neutronz can be heard adding a touch of Mark Harman influenced guitar on some tracks.
If at this point you didn't understand that you should order this record without delay, I guess one of us has a problem… No seriously, order it right now!
Saint Dom on reverbnation.
Saint Dom at Raucous records.
Fred "Virgil" Turgis