The Starline Rhythm Boys – Live At Charlie-O's
Cow Island CIM011 [2008]
Yellow Jacket / A Dime At A Time / Heartbreak Tennessee / Charlie-O's / On The Back Row / Life Begins At 4 O'Clock / Wine Me Up / Lonesome On'ry And Mean / Pipeliner Blues / You're Still On My Mind / One Foot In The Honky Tonk / She Don't Live Here No More / Dark Hollow / Live And Let Live / Get A Little Goner / Drunk Tank / Playboy / You Can't Catch Me / That's Where I Went Wrong / I'm A Lonesome Fugitive / Gotta Travel On / Too Much Fun / Drink Up And Go Home.
The Starline Rhythm Boys – Masquerade For A Heartache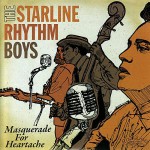 Cow Island CIM014 [2009]
Masquerade For Heartache / Jive After Five / Trucker From Tennessee / Workin' Man Blues / Honky Tonk Gal / Red's Place / A Mess Of Blues / Goodbye Train / I'm Fed Up Drinking Here / Ubangi Stomp
Here's the cure to the stress of your everyday life and your summertime blues: the hot rockin' honky tonk swing style of a Starline Rhythm Boys show in your living room! Recorded live at their homebase of Charlie-O's bar, it features a typical set of the trio mixing classics from Johnny Paycheck, Wayne Walker, Conway Twitty, Faron Young, Chuck Berry, Bill Kirchen… with a couple of band's own (She Don't Live Here, Drunk Tank, That's Where I Went Wrong). Add the presence of Sean Mencher (High Noon) to produce an play second guitar on one track as well as Kevin Maul on steel (both lap and pedal) and you just have to put the cd in the player and let the fun begins.
Masquerade For A Heartache is the perfect companion to Charlie-O's with 10 more tracks recorded during the same show. Once again it's very well balanced between originals (Masquerade…, Red's Place, I'm Fed Up Drinking Here) and covers of Carl Perkins, Merle Haggard, Elvis. This mini album goes from straight Honky Tonk to Rock'n'roll with a good dose of Rockabilly including one of the best version of Ubangi Stomp I've ever had the chance to listen to!
You can buy them separately but do yourself a favor and buy both.
---

The Starline Rhythm Boys – Red's Place
Cow Island Music CIM05
A Fighting Chance – No Gal Cooks Like Mine – Red's Place – It's Anyone's Guess – (They're) Cutting Back the Work Force – That's Just A Thought – The Joke's On You – Who – The Family Farm – Drunk Tank – Sin & Salvation – Burning A Hole In My Mind – The Old Filling Station – That's Where I Went Wrong – I'm Fed Up Drinking Here – A Memory of Fred
The Starline Rhythm Boys are a drummerless trio (Danny Coane, acoustic guitar; "Big Al" Lemery, electric guitar; and Billy Bratcher, doghouse bass) that plays in the same league as High Noon (no wonder to find Sean Mencher on the production seat) and Wayne "The Train" Hancock (Billy Bratcher toured with him by the way). But they don't stick to the trio format and bring a couple of guests to keep things varied and surprising, and most of all highly enjoyable.
Most of the songs are originals written by Bratcher."A Fighting Chance" is a powerfull slap bass led hillbilly/proto rockabilly (what a guitar too) with harmony vocals. "No Gal Cooks Like Mine" features a fiddle in addition to the steel and praises the simple domestic joys. The title track has more of a late 50's honky tonk feel with a bit of Buck Owens in it, still with great harmonies, and a superb piano part. Big Al Lemery is not only a wizard on the telecaster, he's also a poignant singer and proves it on "It's Anyone's Guess" a slow number in the vein of "Before The Next Teardrop Falls" with mandolin, fiddle, light snare and pedal steel. "They're Cutting Back The Work Force" shows once again what a good songwriter Billy Bratcher is, able to write about booze or social issues ( I Got Kids to feed, but there's no remorse, once they start cutting the work force") with equal success. "That's Just A Thought" is a beautiful little hillbilly bop ditty that looks toward the western swing side of things with each members of the horn section taking solos. They turn Jimmy martin's bluegrass number "The Joke's On You" into a uptempo rockabilly. Another cover is Little Walter's "Who", which becomes a "hillbilly-blues" (and reminds what High Noon did with "Crazy Mixed Up World" on their Texas Style 10″). "Family Farm" is a sad and beautiful waltz with bluegrass accents. Al Lemery wrote and sings "Drunk Tank" a nice hillbilly bop. The honky Tonk "Sin & Salvation", on a well known theme, is another proof they never falls into facility. They bring modulation and unusual chords. Man that's good ! Connie Smith's "Burning A Hole InMy Mind" adds a welcome touch of 60's country music.On "The Old Filling Station" with simple words (and a beautiful melody) Bratcher paints a melancholic picture (Do you remember when you never pumped your gas/And the man with the Star was a symbol of class). I really enjoyed "I'm Fed Up Drinking Here", the best song George Jones never recorded. How can't you love a band that plays right and sings "The Old Juke box that I leaned on/Was a rock for life's hard knock but now it's gone/When a man's mind ain't clear/ a lack of George Jones is severe". The set ends with a sincere hommage to a friend of them, Fred, and you can feel both the love they have for him and the personnality of the man, even if you never met him.
Authenticity is not only a matter of music, it's above all a state of mind. And this guys play genuine country music that speaks to your heart and your feet.
Thank you for that Boys !
Fred "Virgil" Turgis
Fred "Virgil" Turgis